Libby and Graham's fantastic late Autumn Wedding day
It was not so long ago back in November when I covered the Cotswold Wedding Cripps Barn Wedding of Libby and Graham in Gloucestershire.
Here are a few kind words left by the couple….
"Hi Steve, the photos are brilliant! We've watched the Wedding slideshow so many times. I get teary-eyed every time I watch it. Thank you so much for making us relax so much and being so wonderful!"
I provide all my couples with a complimentary slideshow of the highlights of their Wedding day. It always creates a big impact and a wonderful way to view the wedding images for the first time.
How the big day went at the Cotswold Wedding at Cripps Barn
Having a Cotswold Wedding at Cripps Barn is certainly one of the great Wedding venues in Gloucestershire. It's an amazing 18th Century Cotswold Barn with fabulous staff and wonderful food. Needless to say, it was the perfect venue for Libby and Graham to make the most of their big day. Having a great place to celebrate always helps but ultimately, its people that make Weddings. Weddings always tend to bring out the best in people at least for most of the time. As a photographer, it's so wonderful to be invited to a big party and capture all the moments.
The pictures tell the story and as well as the slideshow above you can view the still images below. So browse through and enjoy.
Wedding preparations are a great opportunity to capture all sorts of activity. I usually two cameras on with a wide angle lens and one with a telephoto. This way I can switch between lens without losing a moment. Here I've captured Grand Ma ironing the groomsmen's shirts.
Some beautiful side lighting falling on the Grooms Dad's face as he looks out of the window, contemplating.
Graham the groom putting on his socks
Grand Ma's ironing has paid off!
Brides Dad not quite sure what to do with himself gives me a nervous smile whilst killing time on the balcony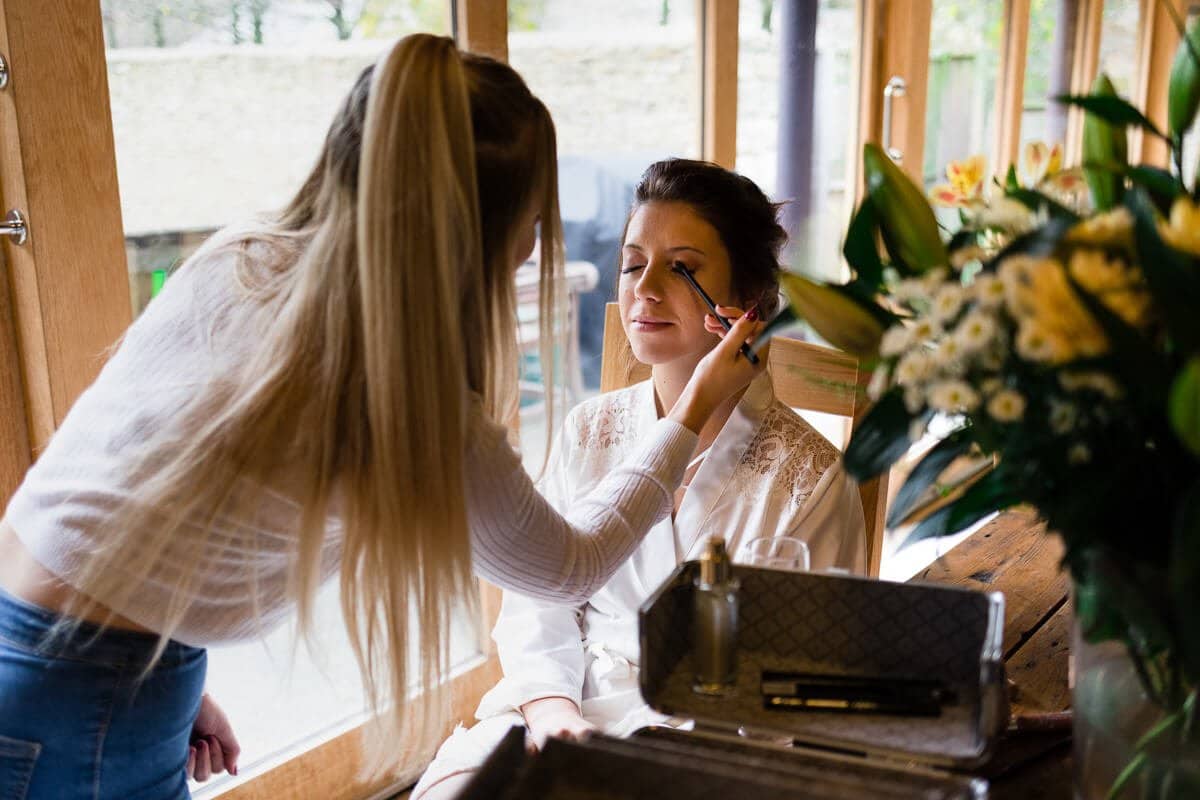 Libby the bride having make up applied.
You certainly get by with a little help from your friends! Here the bride's friend takes care of hanging up the Wedding dress.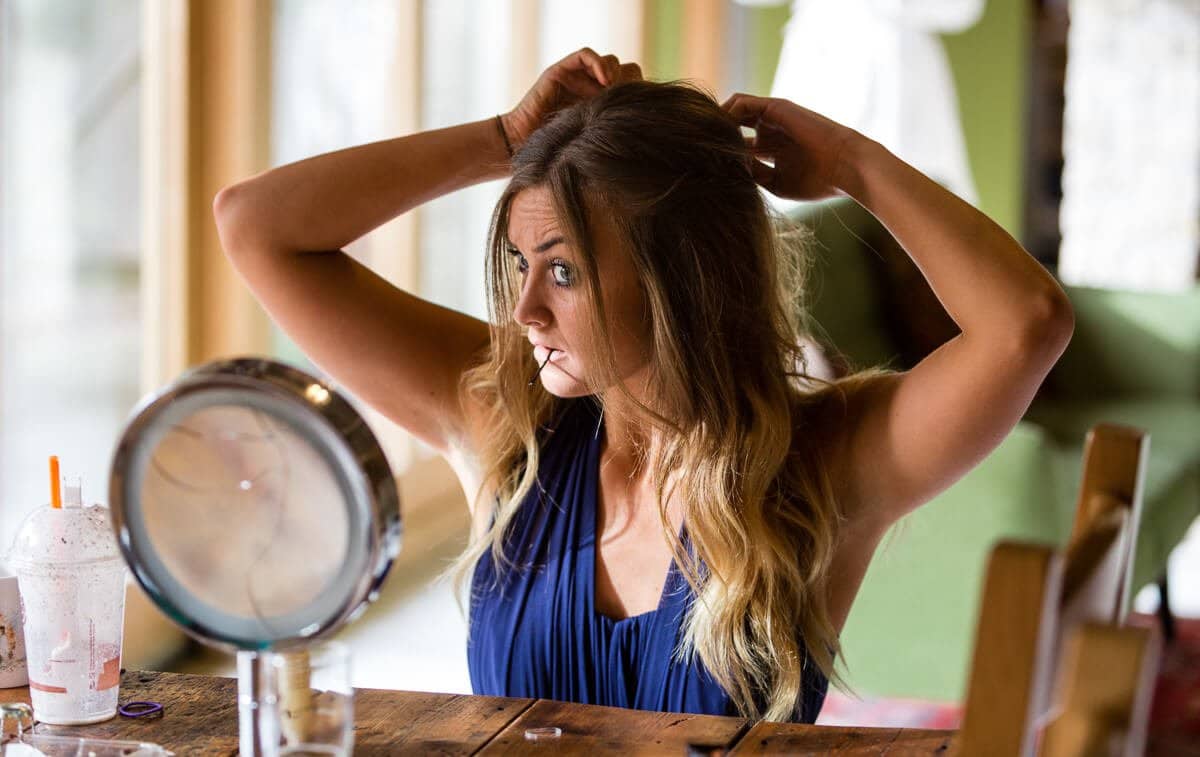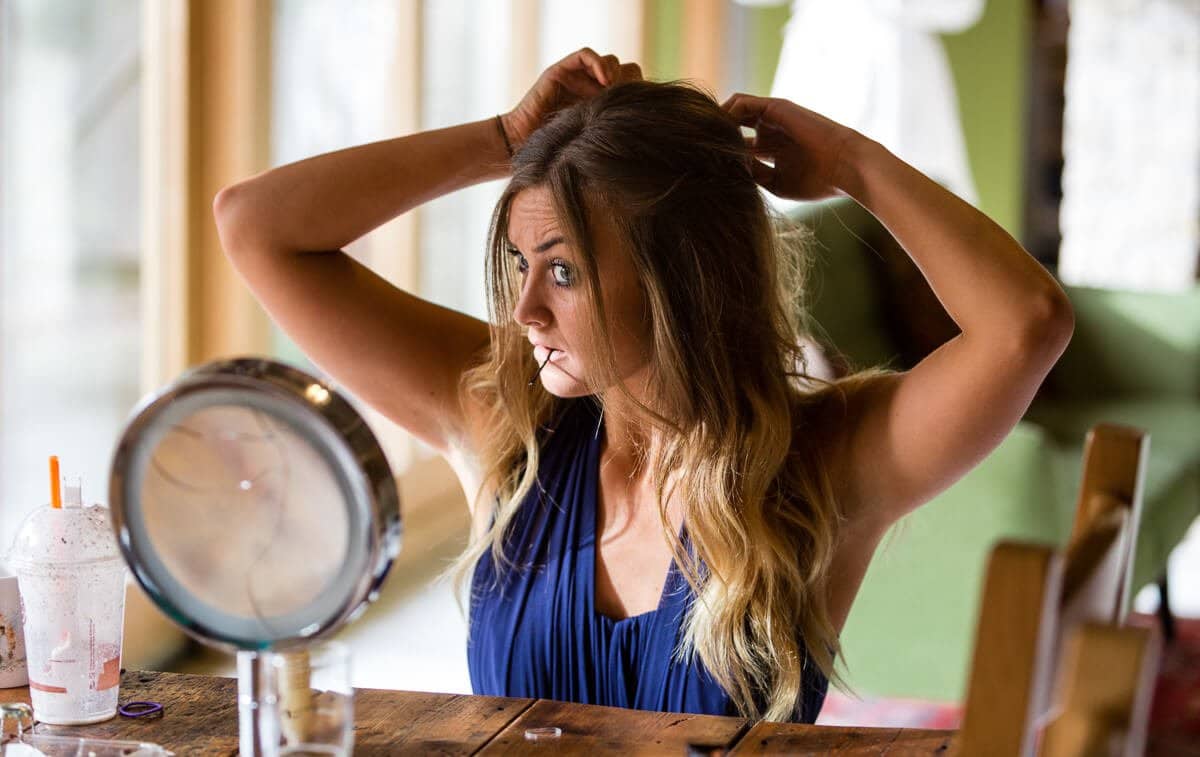 It's a tricky business getting your hair just right
One of the bridesmaid's hands Graham a personal note and gift from Libby, the bride.
Telling the Wedding Story
The groom can't contain the tears as he reads the very personal note from his bride to be. I always tell the story at every Wedding but it's capturing personal moments like this that make it extra special. Graham is completely lost in the moment here and unaware of my presence. I have shot this image in low natural light using a 35mm lens at f2.8. I use natural light as much as possible as flash can sometimes kill the atmosphere. These days top professional cameras allow you to photograph in such low light conditions. Whilst top equipment helps it's all about the observation and timing.
While the groom gets ready the groomsmen put on their ties.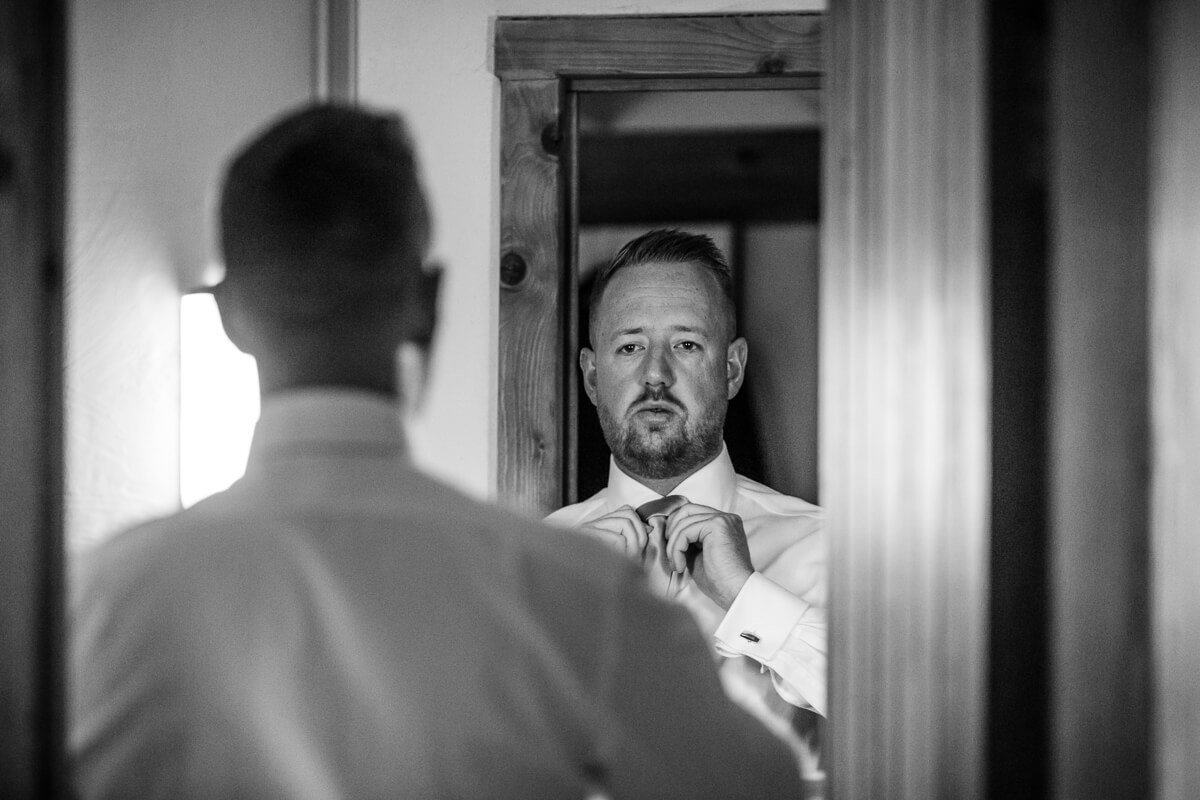 Graham resumes shaving. Still lost in the moment.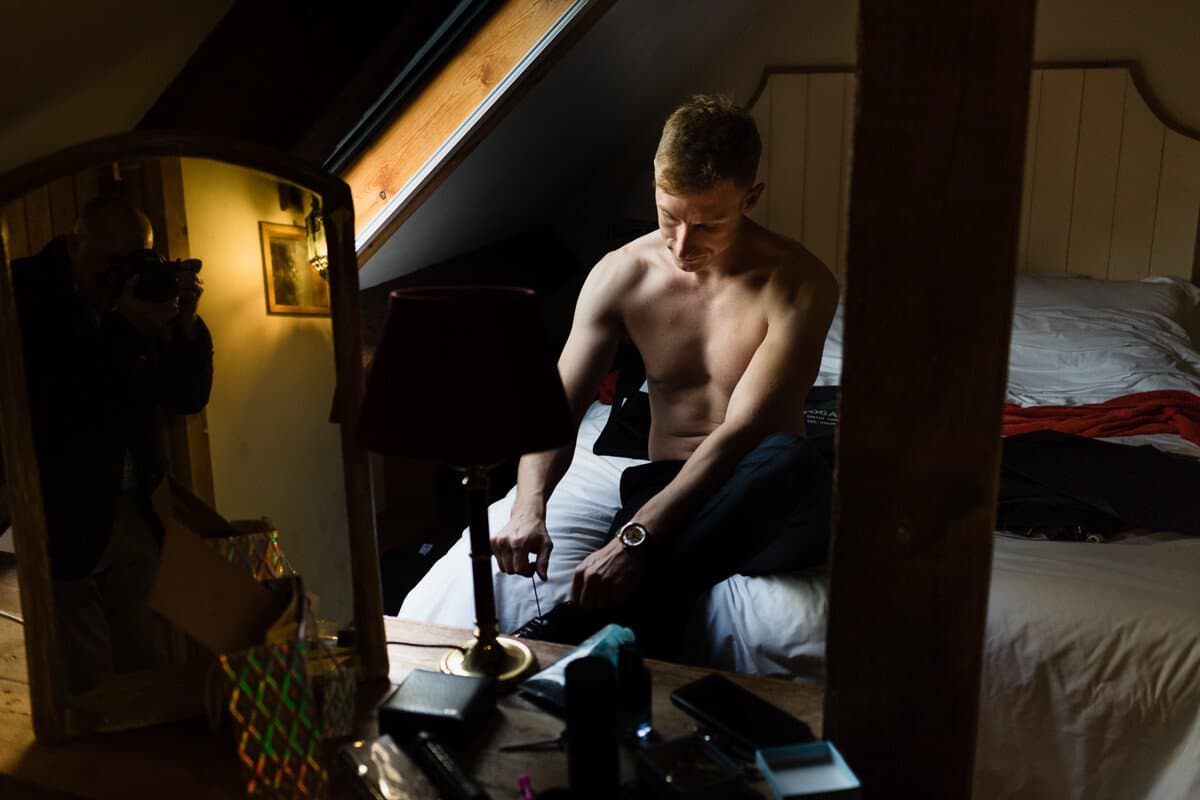 Weddings are about people
To me, Weddings are all about people. However, when an object has significant meaning it's nice to capture it. Here the groom is getting an old timepiece ready, handed down to him by his Grandfather.
Different brides do different things. Libby is obviously an independent-minded girl as she likes to do her own lipstick.
I'm always on the look at for something a bit different. I love this shot as the bride and the bridesmaid are both simultaneously doing things in front of the mirror in different rooms. It took a few shots before I captured just the moment I was looking for.
Bride tries to cheer rather fed up flower girl 🙂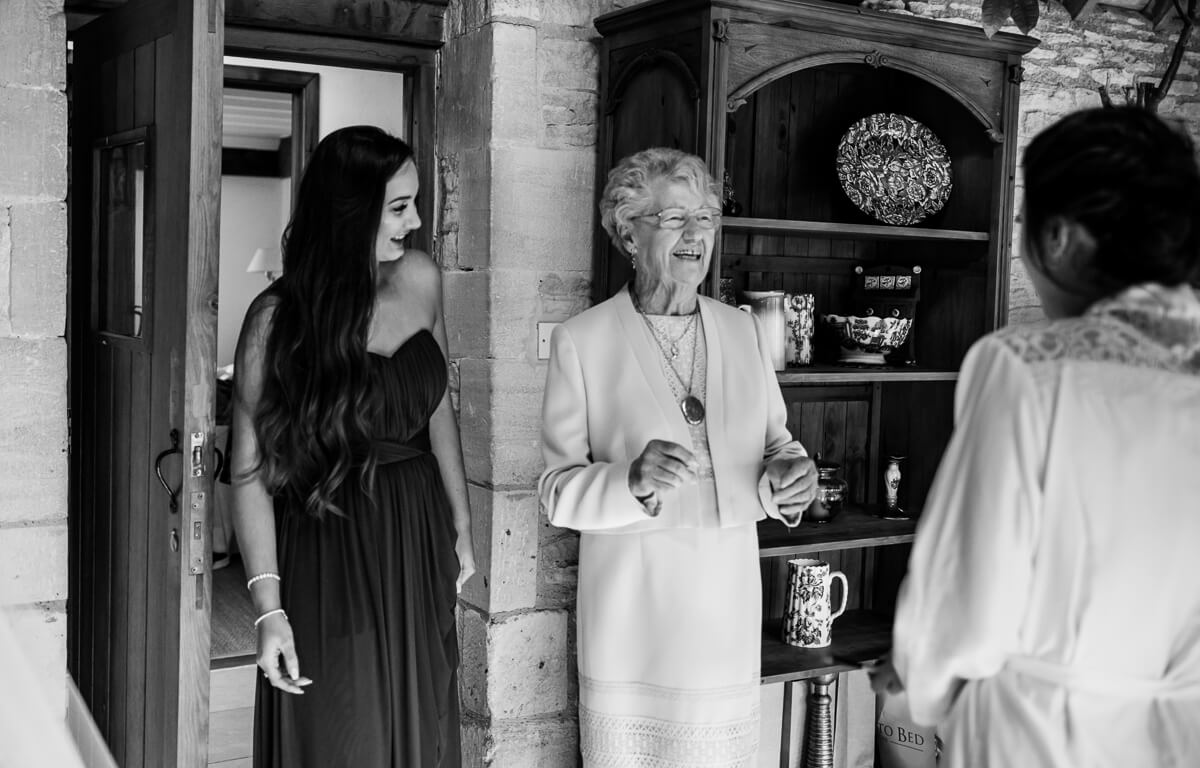 Grandmother sees the bride for the first time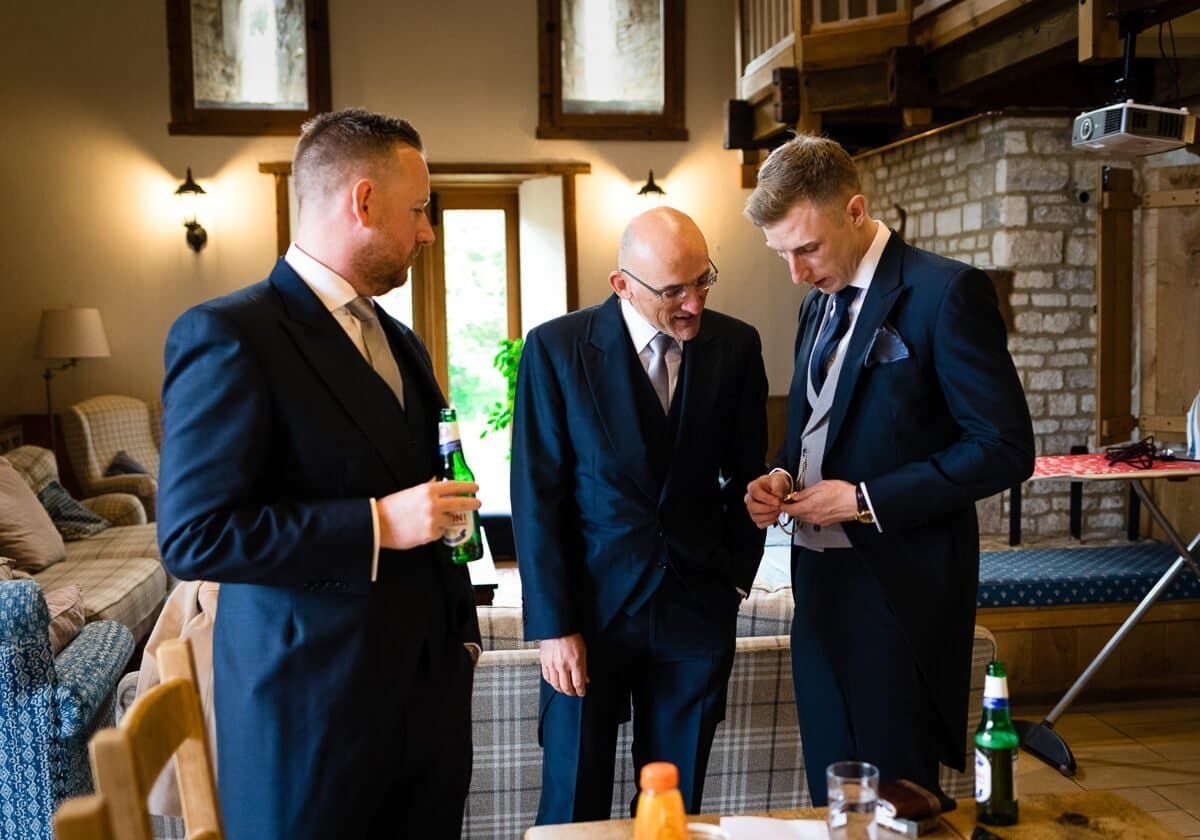 Groom shows off his very special timepiece
A good friend arrives to greet Libby the bride and wish her well
Libby enjoying a chuckle with Mum
Most brides can take quite some time getting into their Wedding dresses. Not Libby thou. No fuss and into the dress in seconds! I had to work quickly with my trusty camera!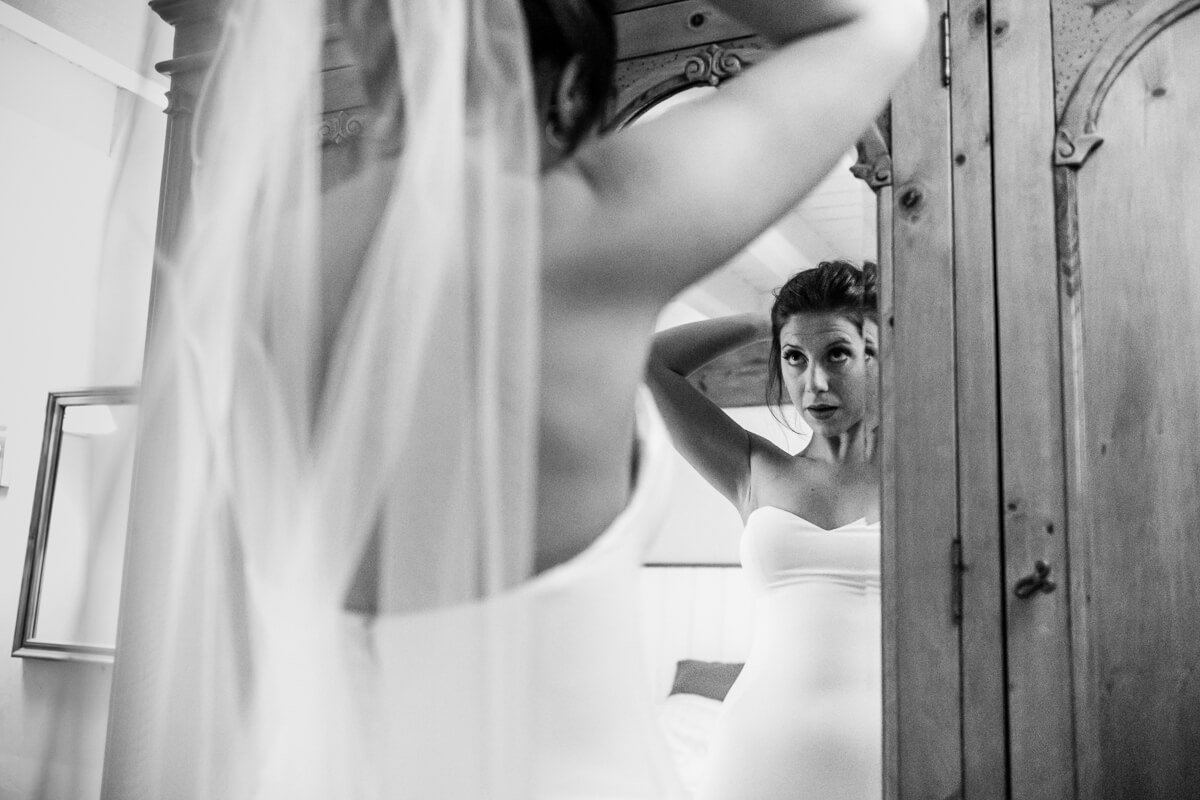 Just a few final touches
Dad and bridesmaids are overcome with emotion as they see Libby in her Wedding dress for the first time.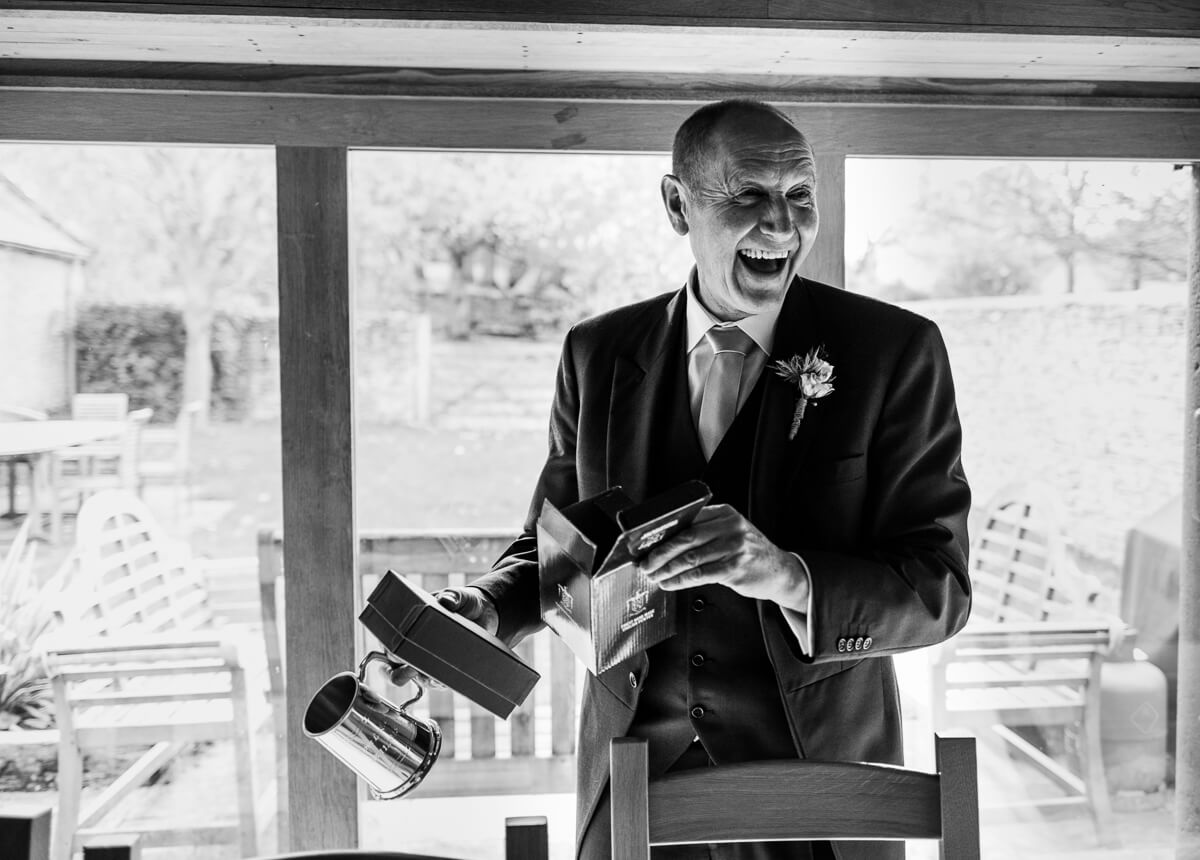 Dad is obviously thrilled with the wedding present his daughter has given him
The Wedding Ceremony
Groom taking care of his duties as guests arrive just prior to the Cotswold Wedding, Cripps Barn ceremony
Smiles and laughter all around as Wedding guests catch up with family and friends just prior to the ceremony
Official registrars meet with the bride and groom just prior to the ceremony. One of the registrars eyes me suspiciously. Not that I'm any threat!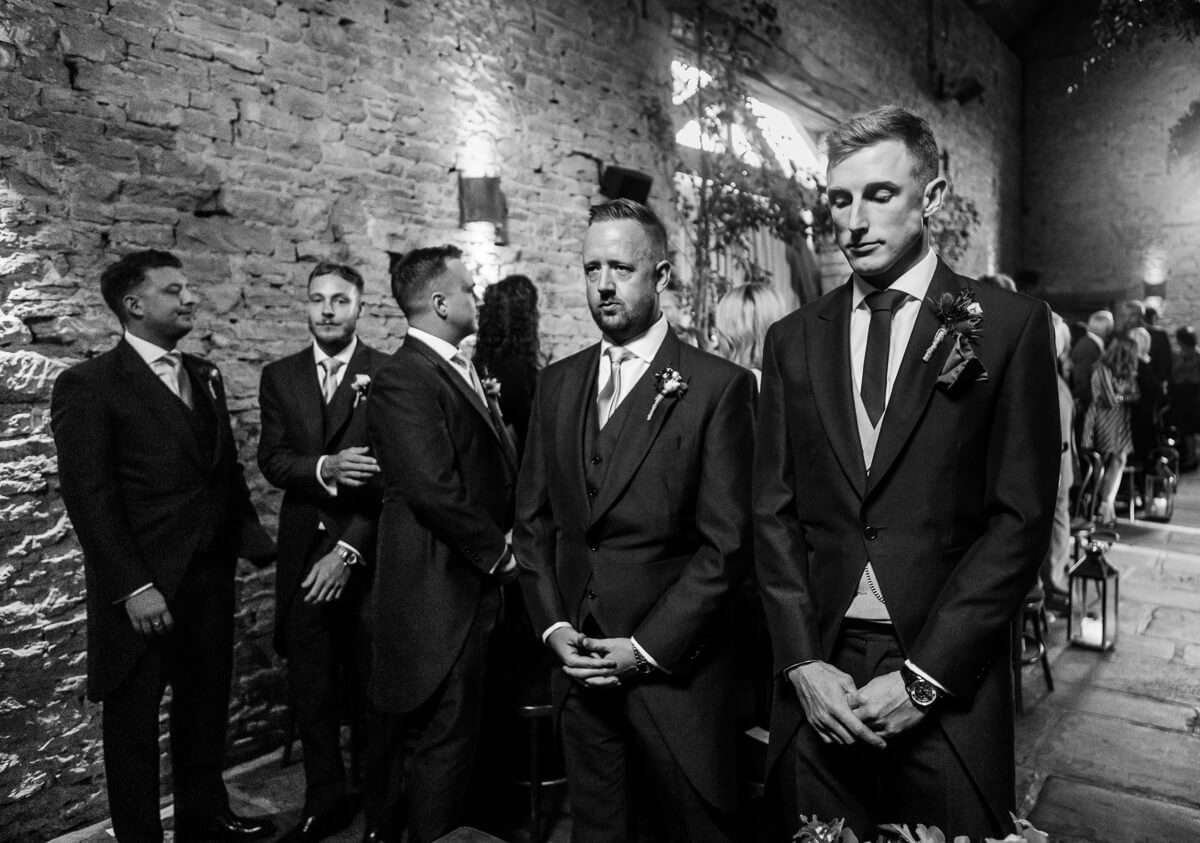 You can feel the tension in this image as Graham waits for his bride to be to walk down the aisle.
Its all a bit too much as Graham holds back the tears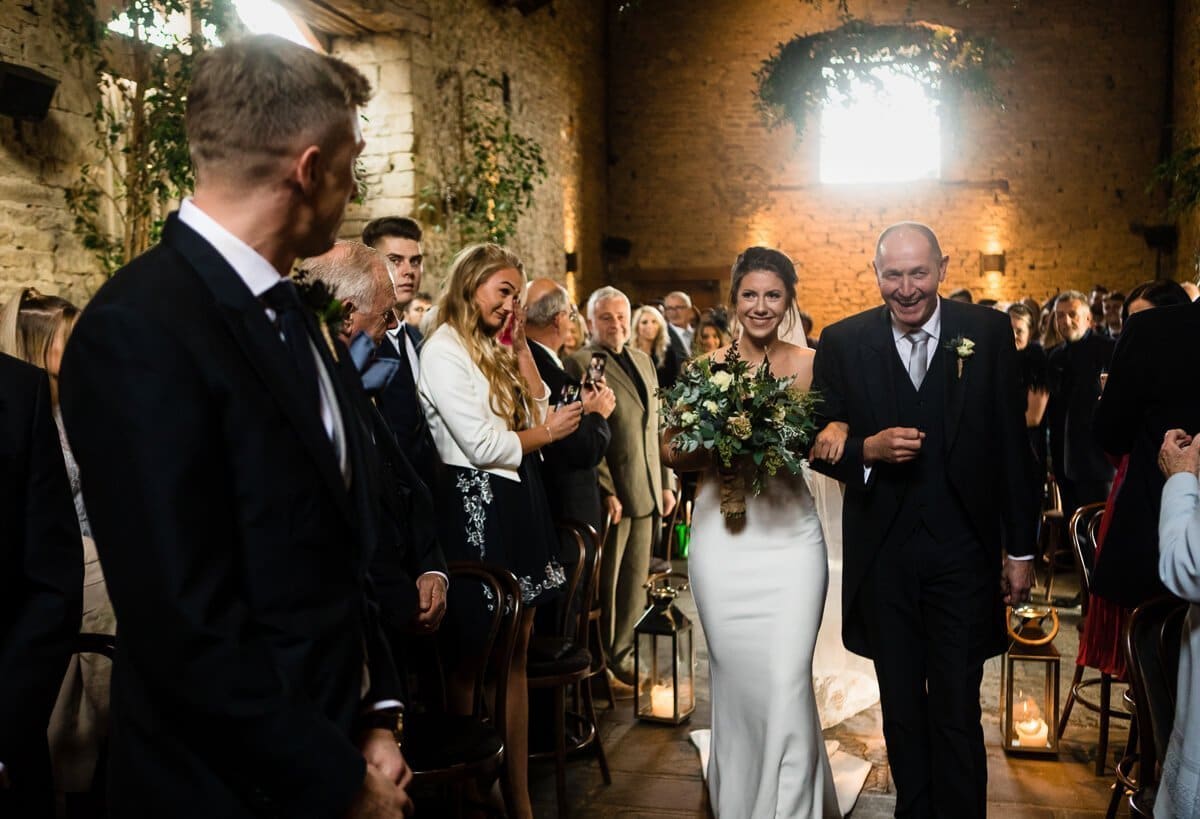 The groom can't resist seeing his bride for the first time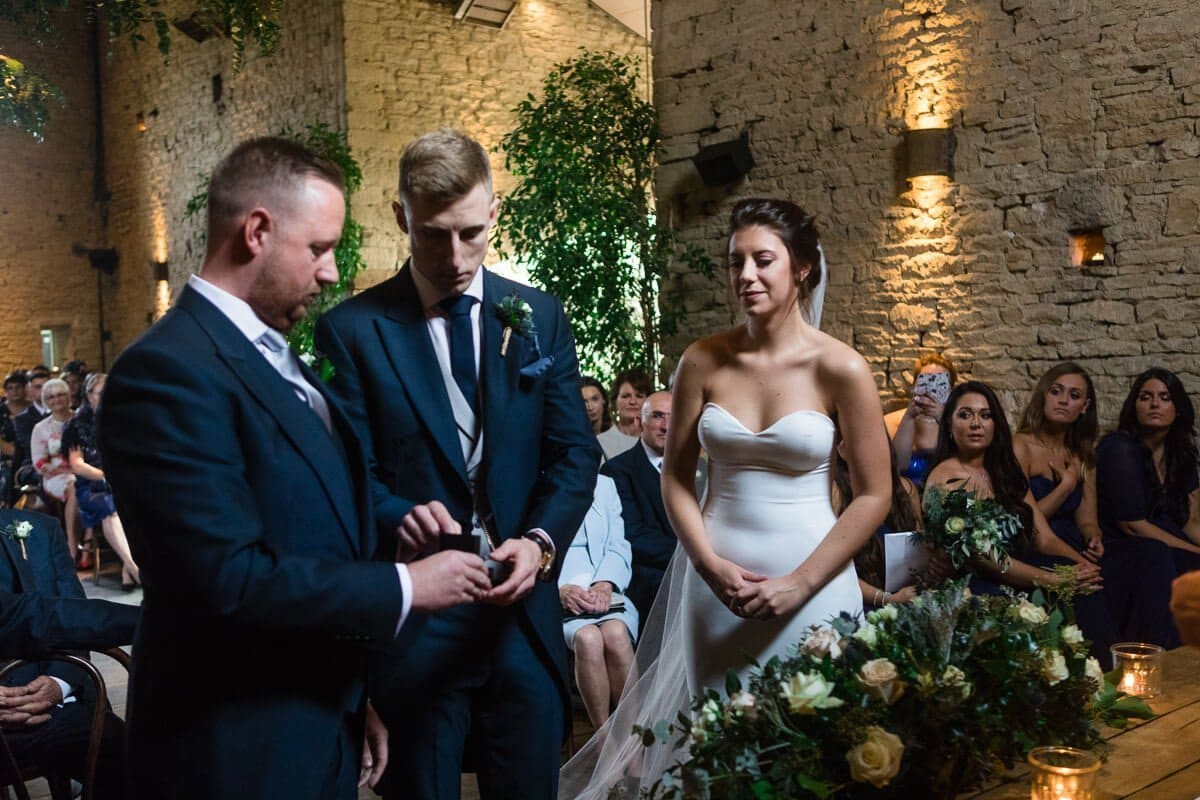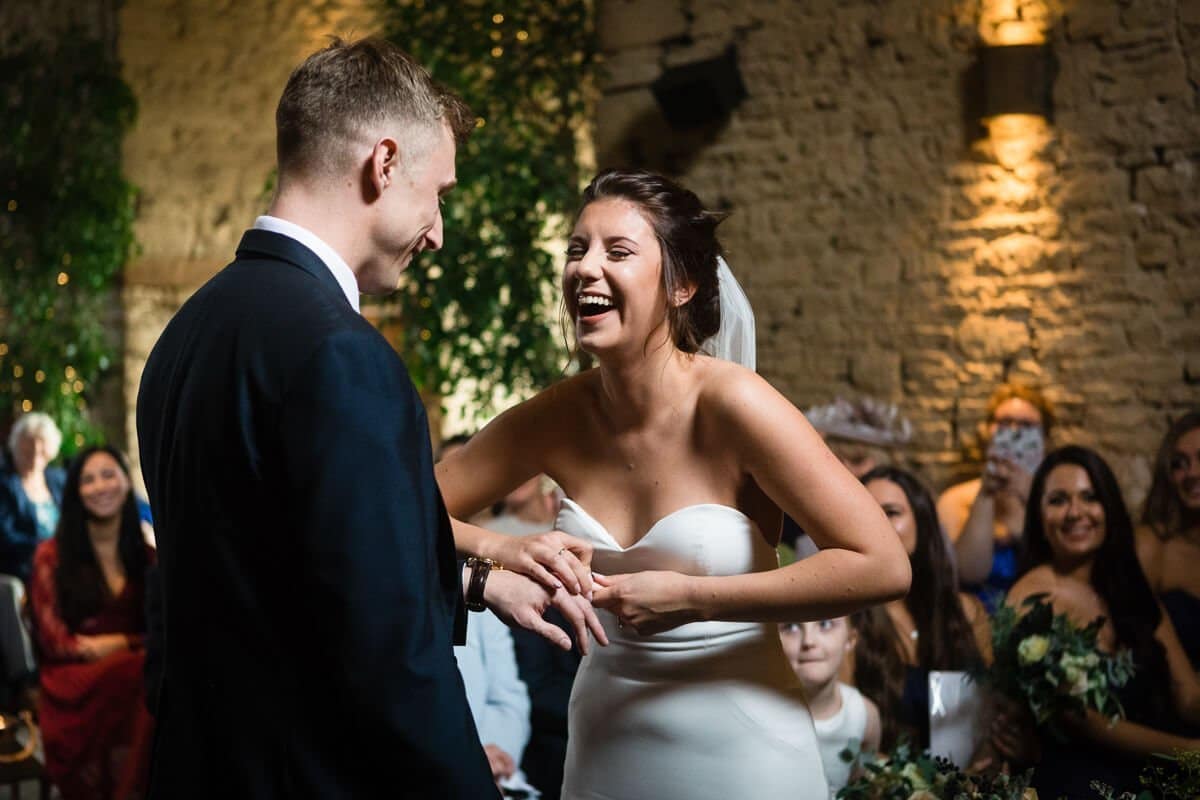 Bride gets ring stuck on Grahams finger but it just makes Libby burst out into laughter 🙂
Of course, no ceremony is complete without that kiss! Although I do wish the best man was looking a bit more cheerful!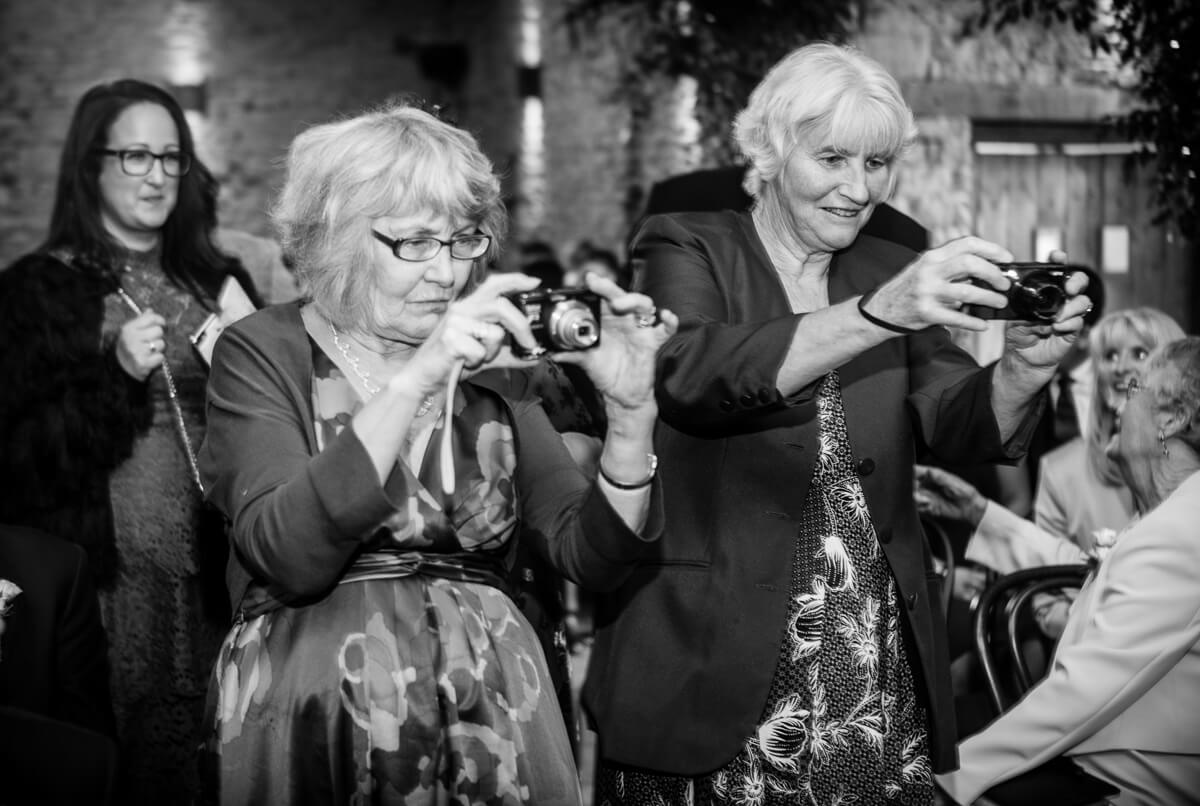 Oh looks like I've got competition 🙂 The Wedding guests often turn into the paparazzi and it never fails to amuse me
Phew, it's all over. You can see the relief and happiness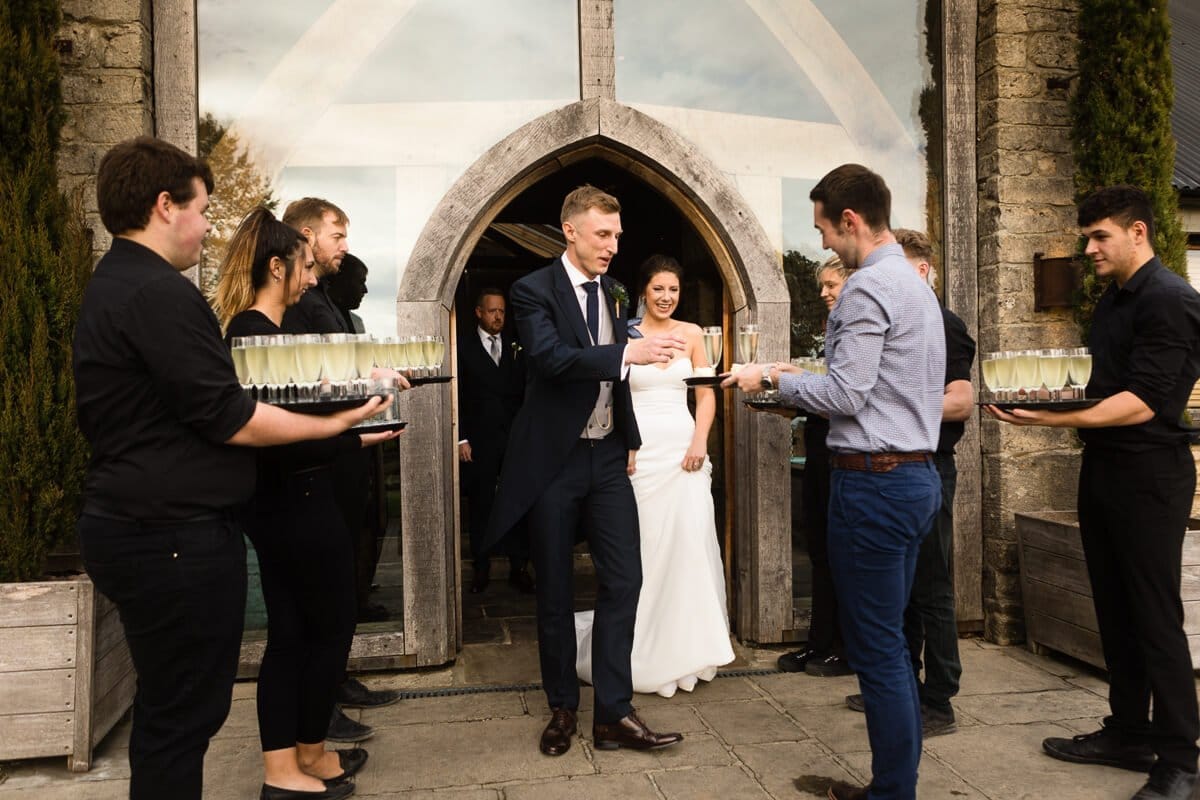 The Wedding reception
And so the Wedding celebrations can begin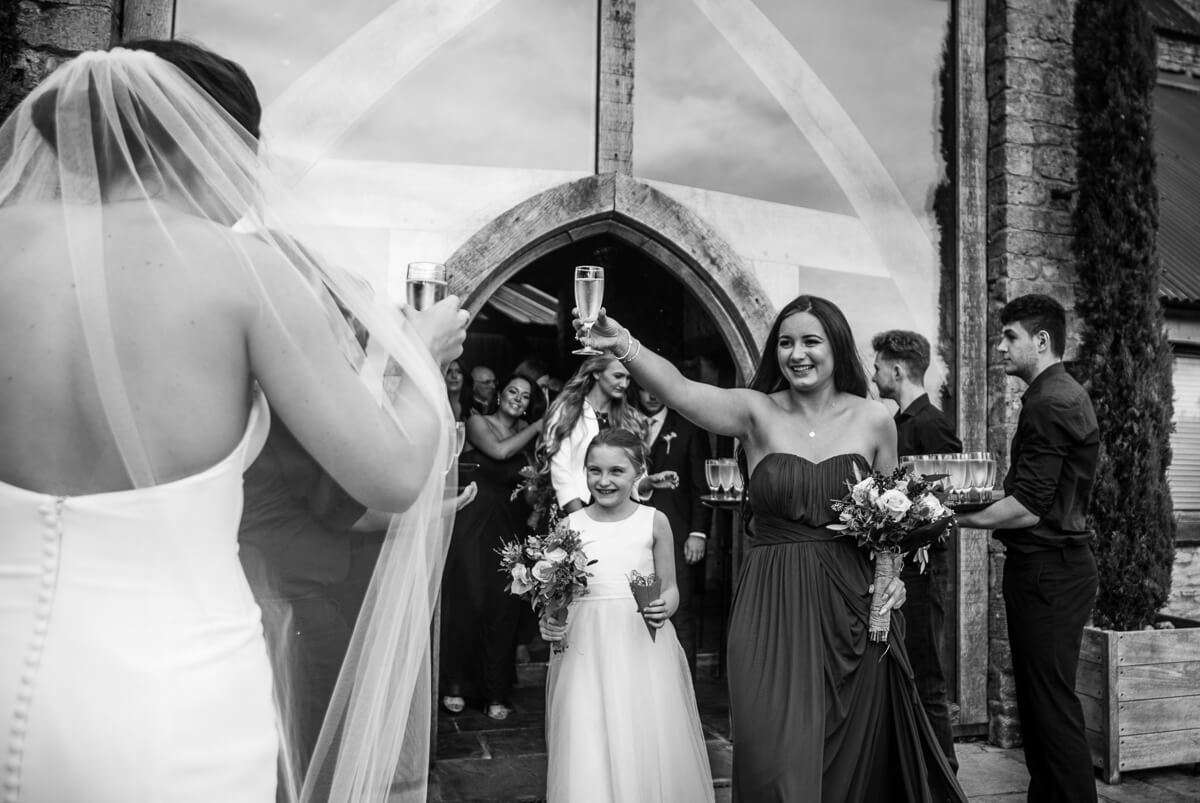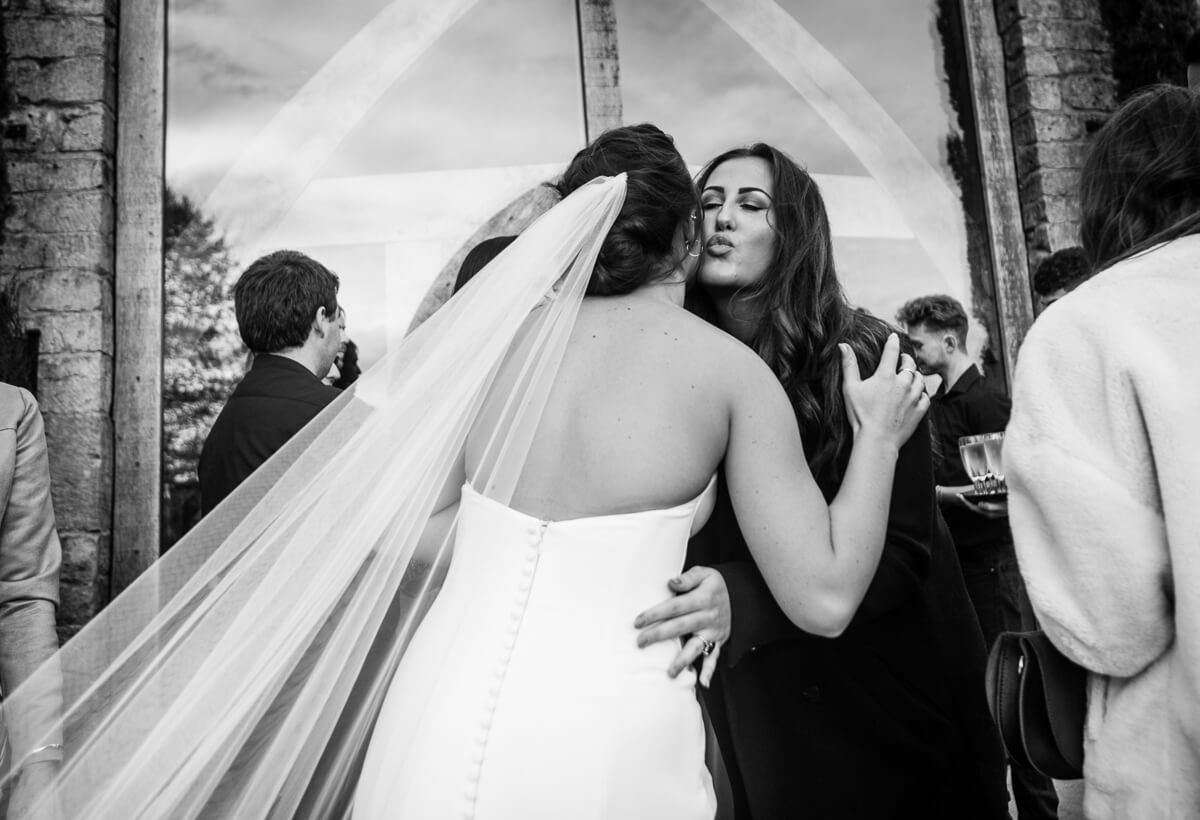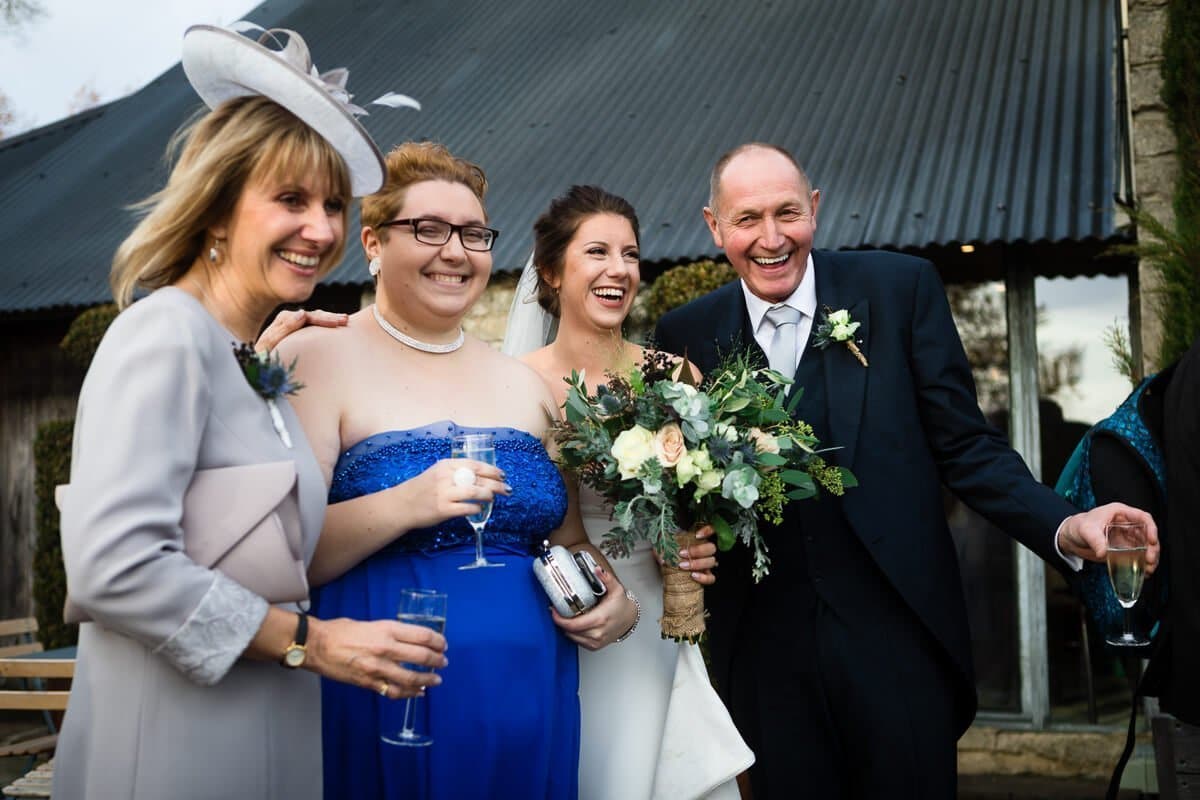 Of course, there are family photos. I particularly like this one as it doesn't feel formal
You can almost feel the emotion in this hug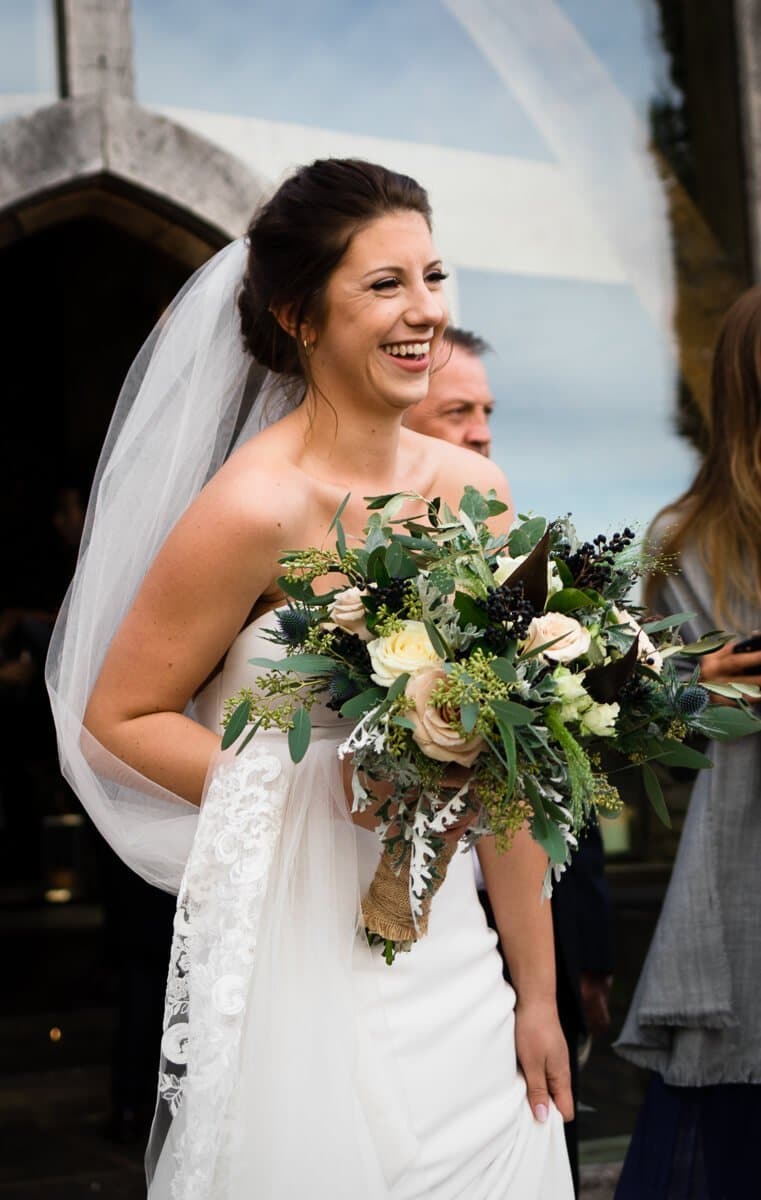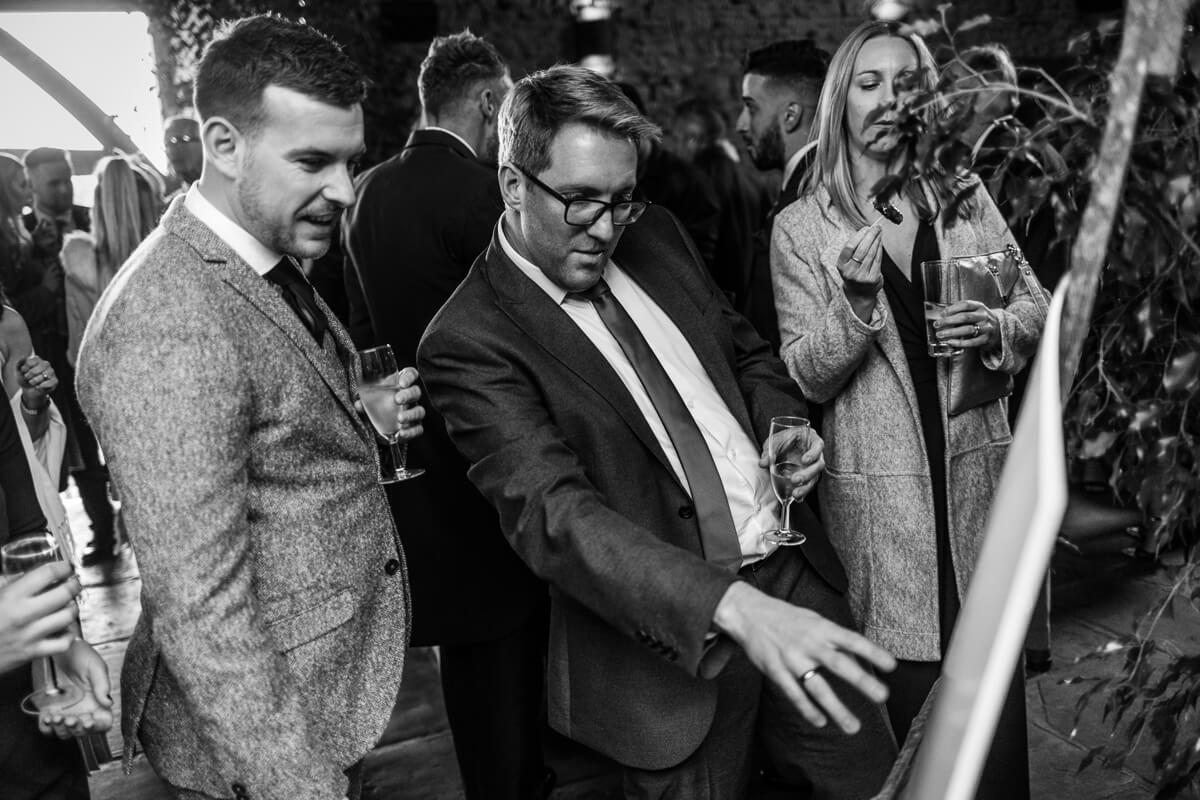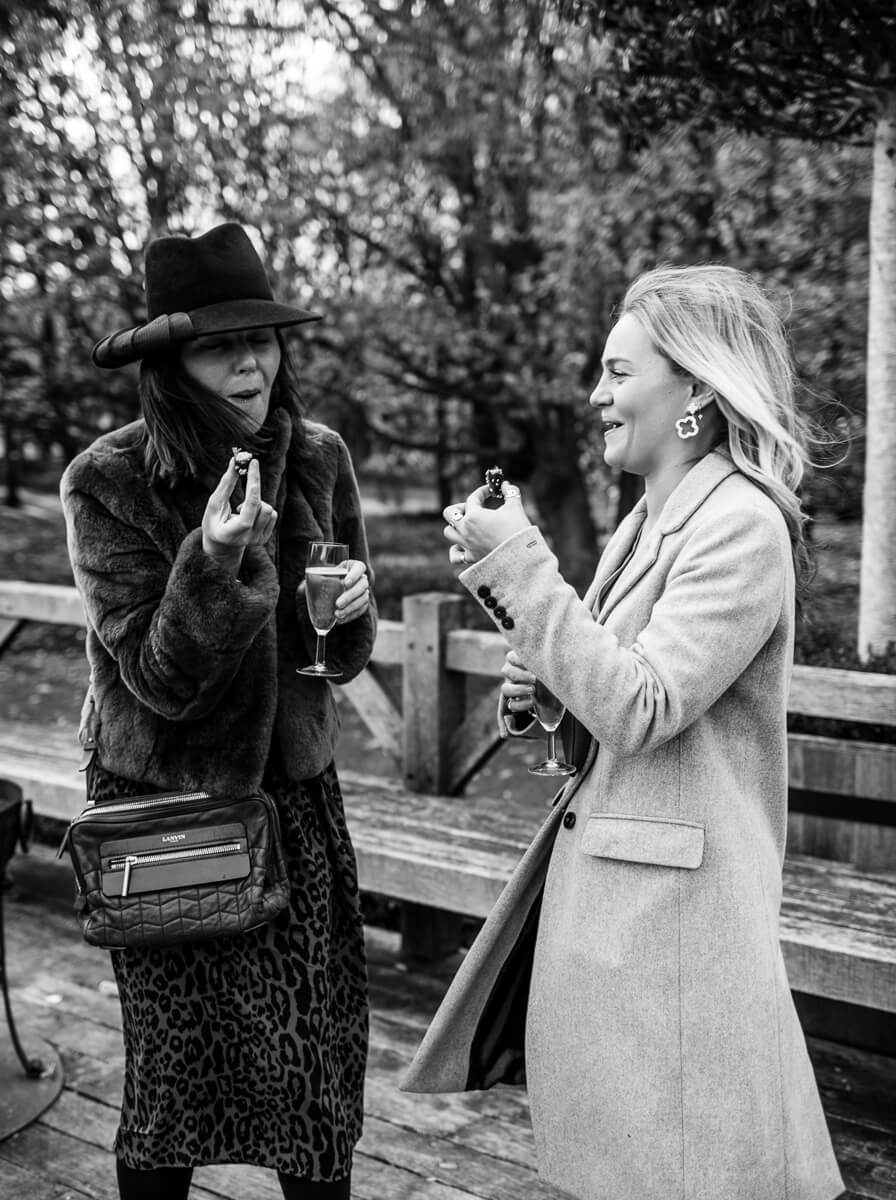 Now you can't beat a good sausage canape, especially on a late autumn/ early Winters day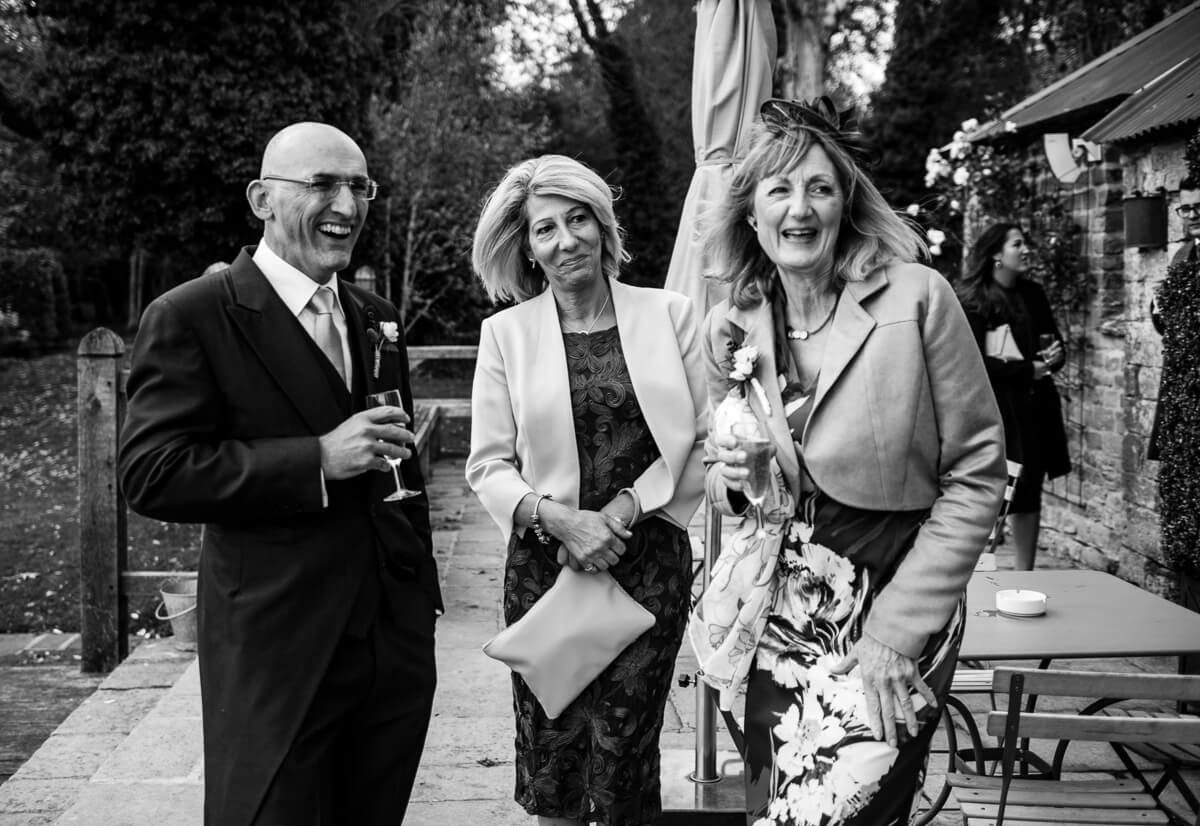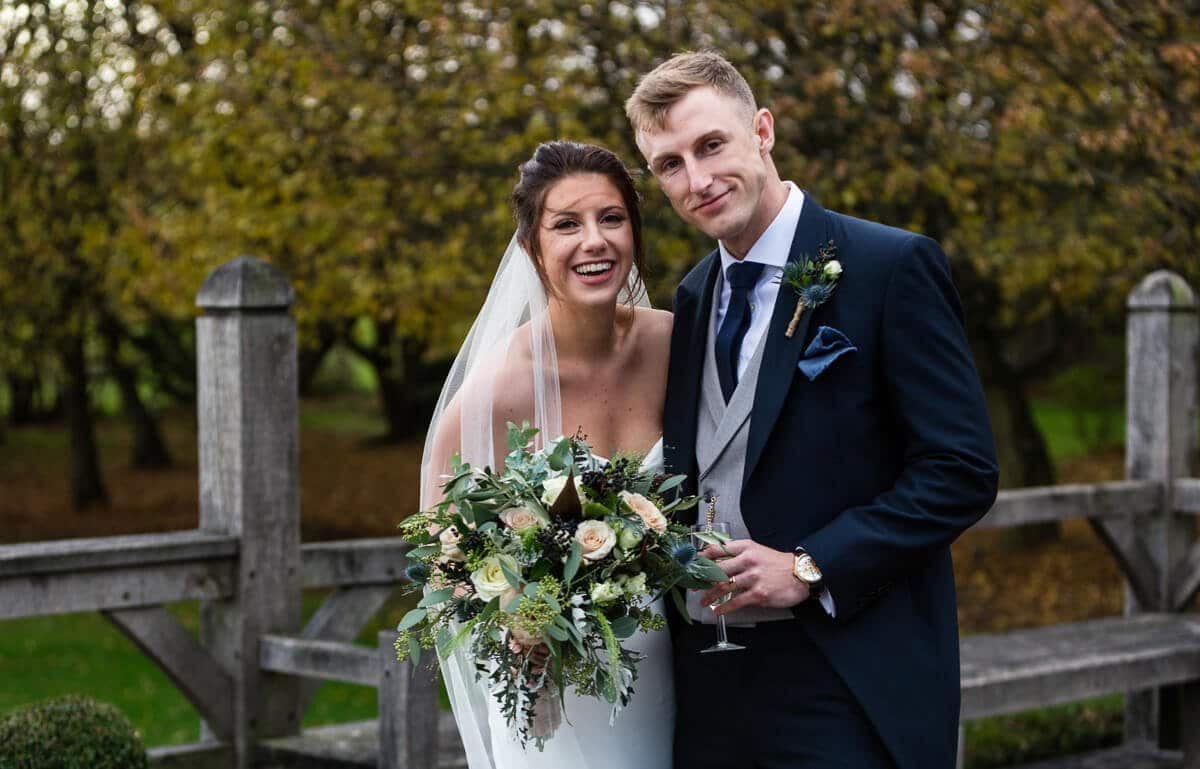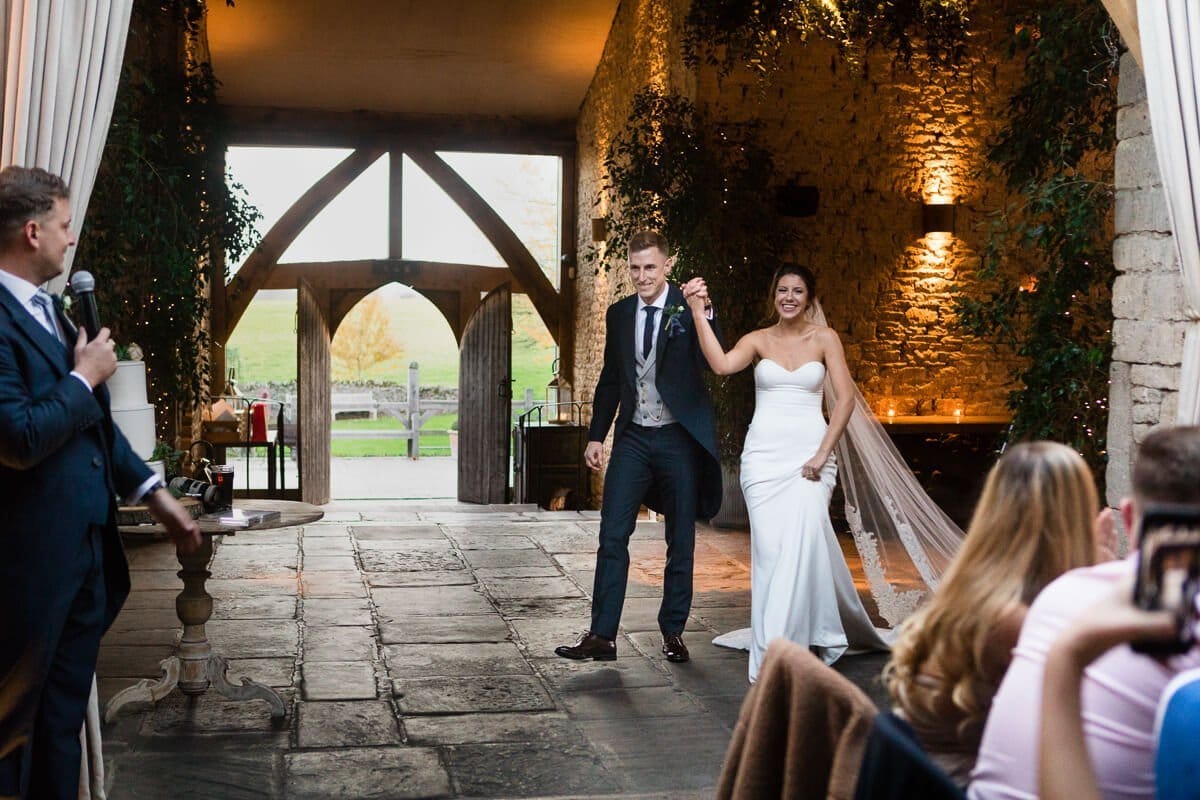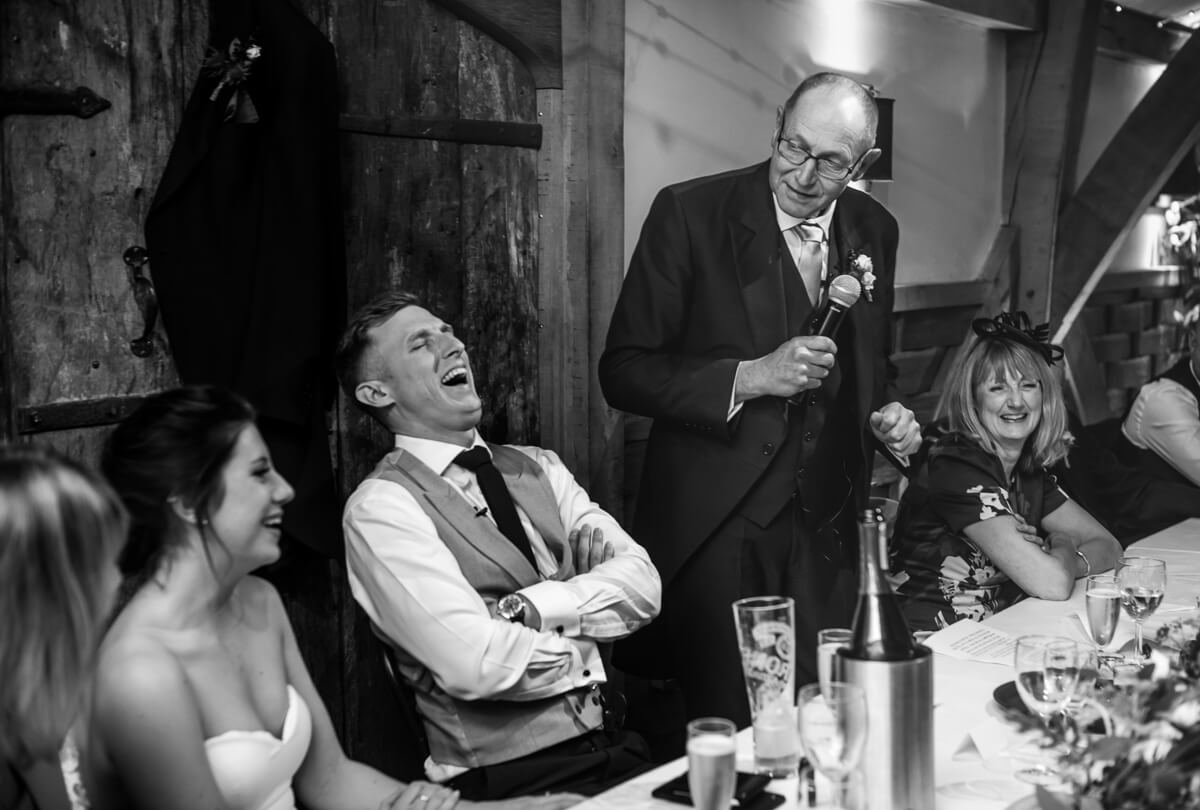 Dad kicks off with the speeches and Graham the groom is loving it!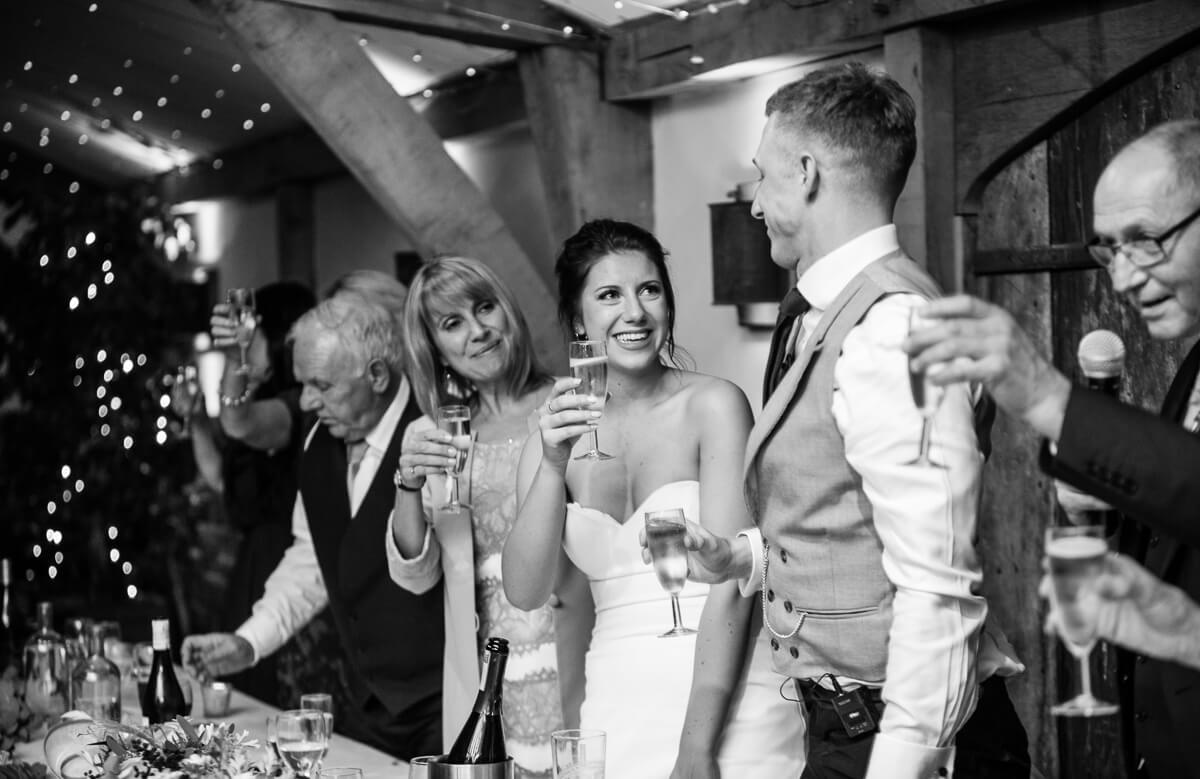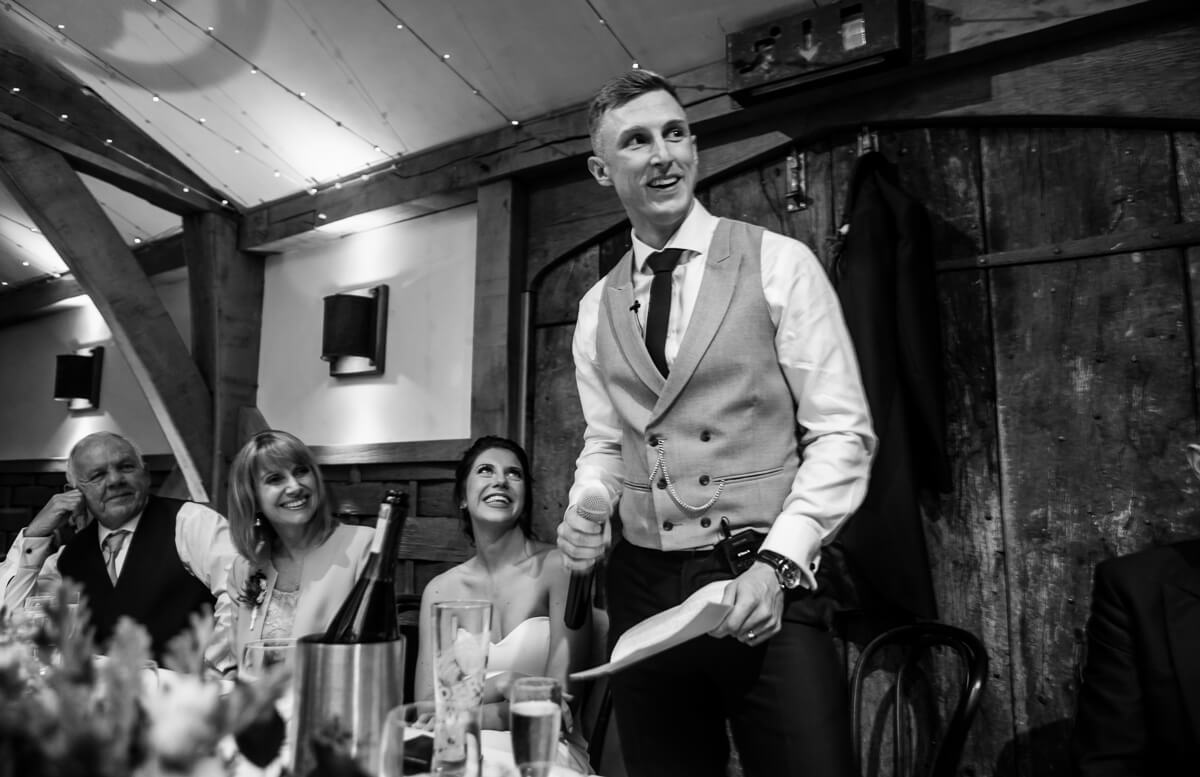 Now it's the groom's turn to make his wedding speech and he seems to be taking it in his stride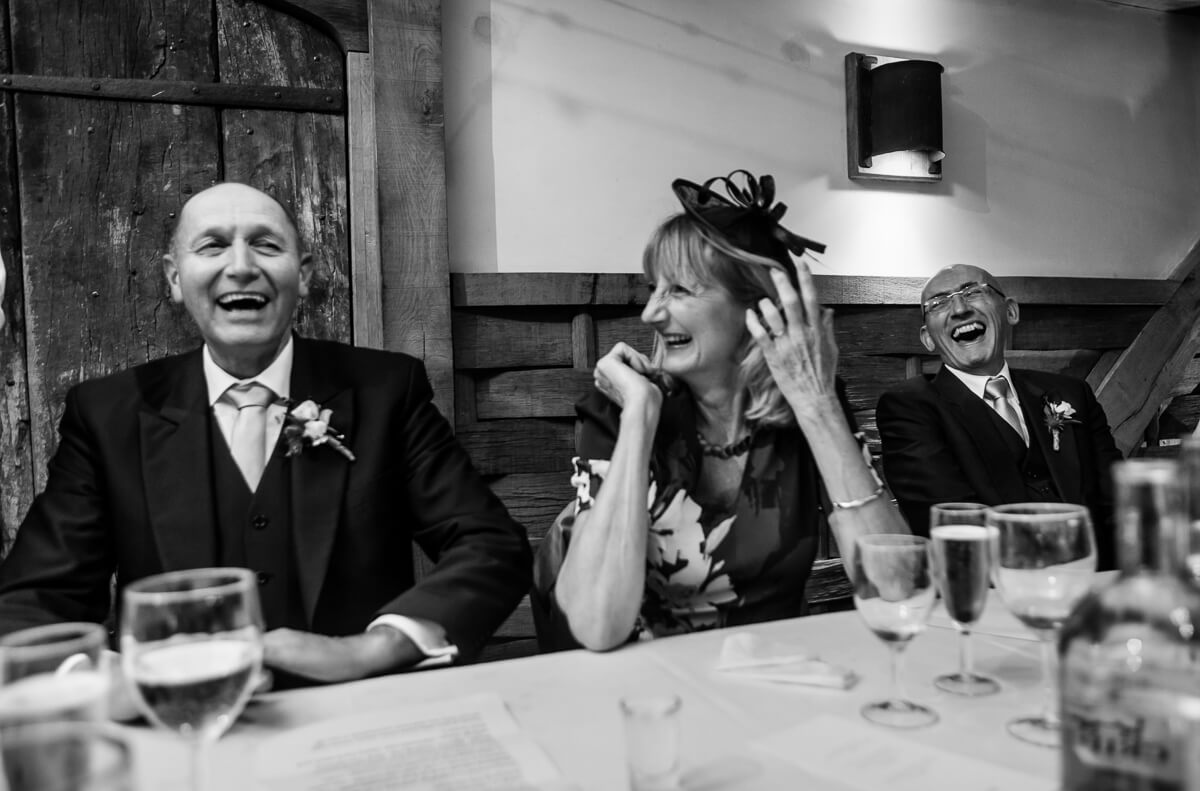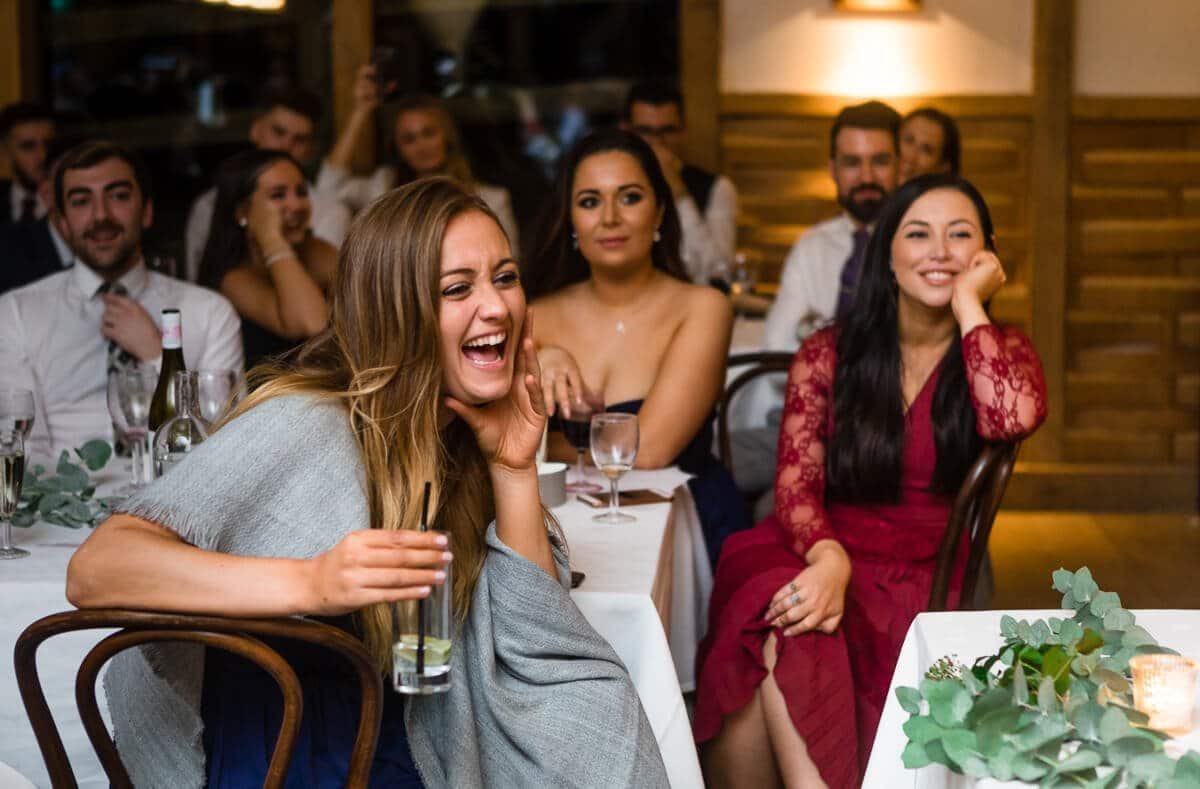 Wedding speeches are a perfect time to capture guest reactions. I've captured this image on my 24 – 70L canon lens at about 60mm at f2.8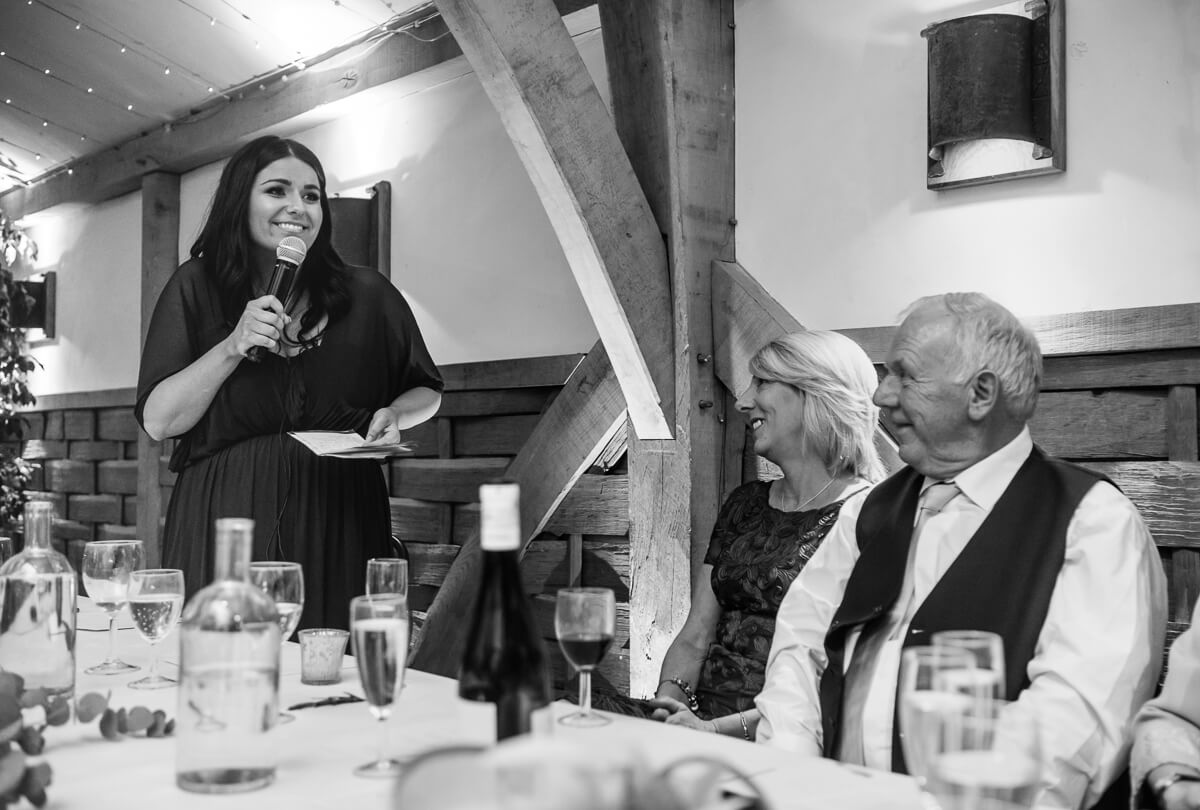 Head bridesmaid and best friend of Libby also makes a speech. Not the usual at Weddings, but why stick to the convention?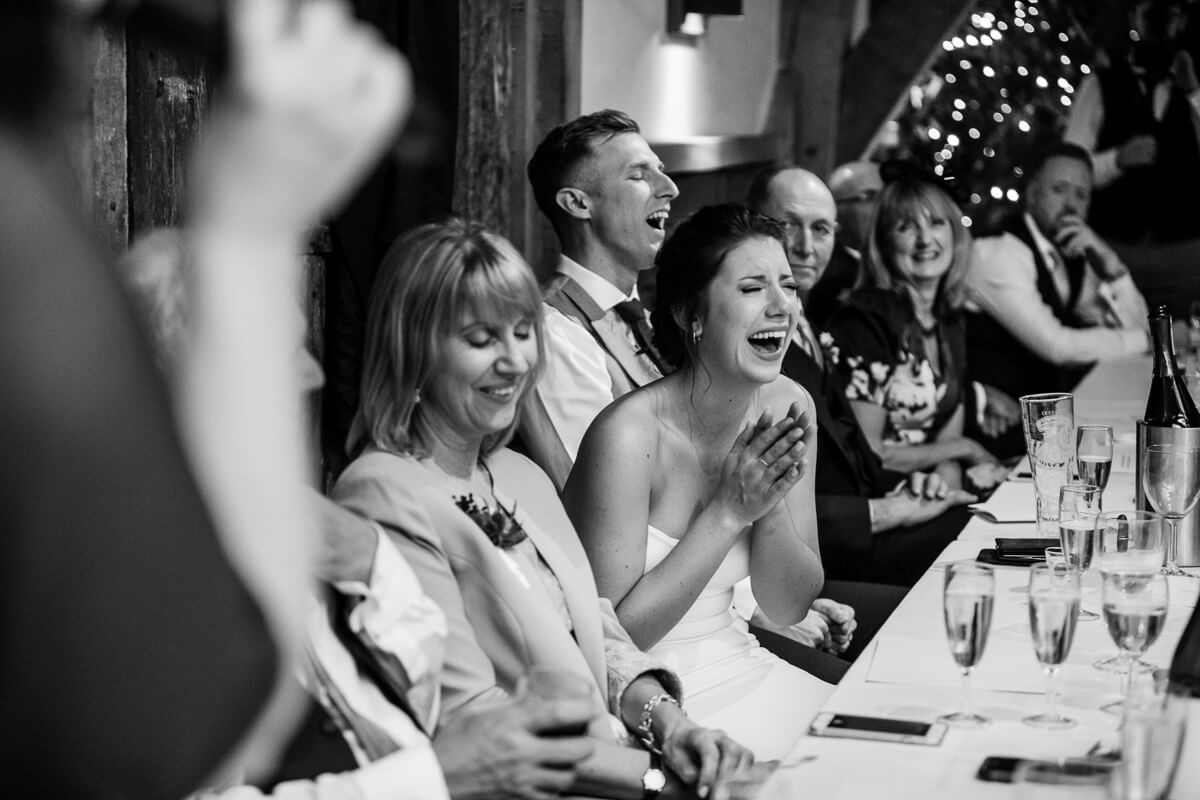 Libby gives her best friend and bridesmaid a wonderful heartfelt hug after her speech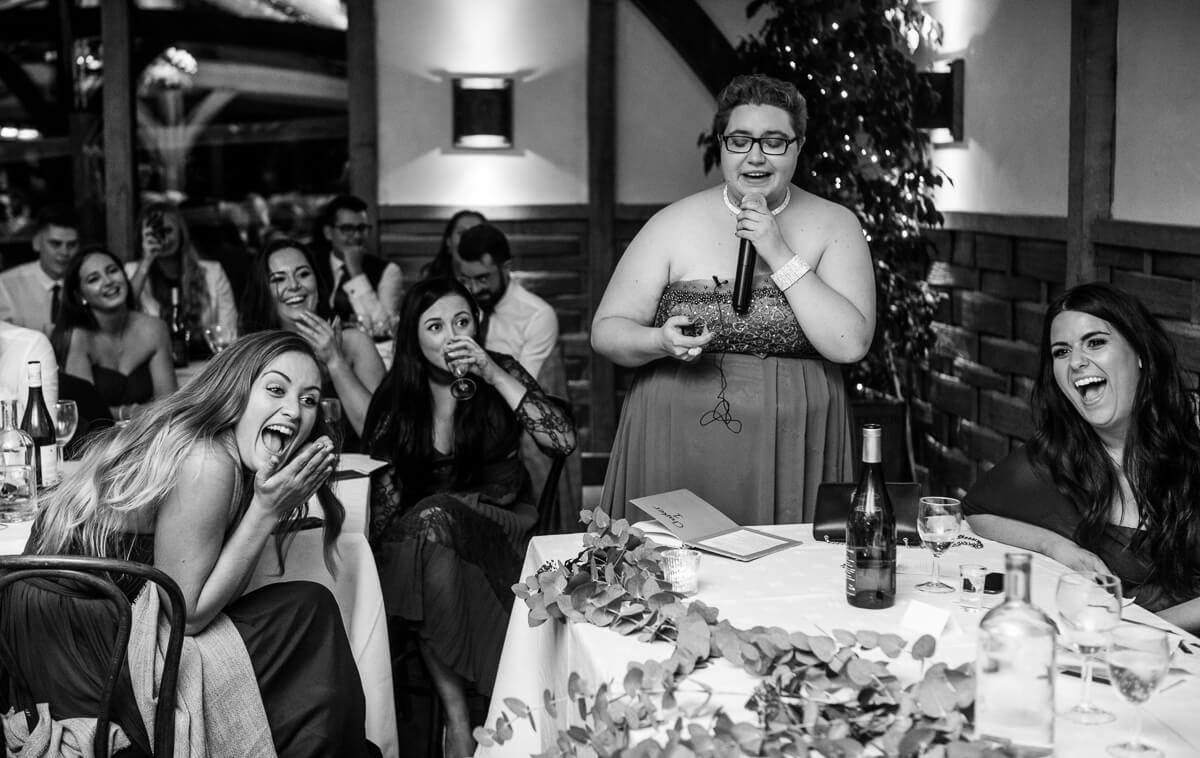 Brides sister makes a speech and she clearly has the comic touch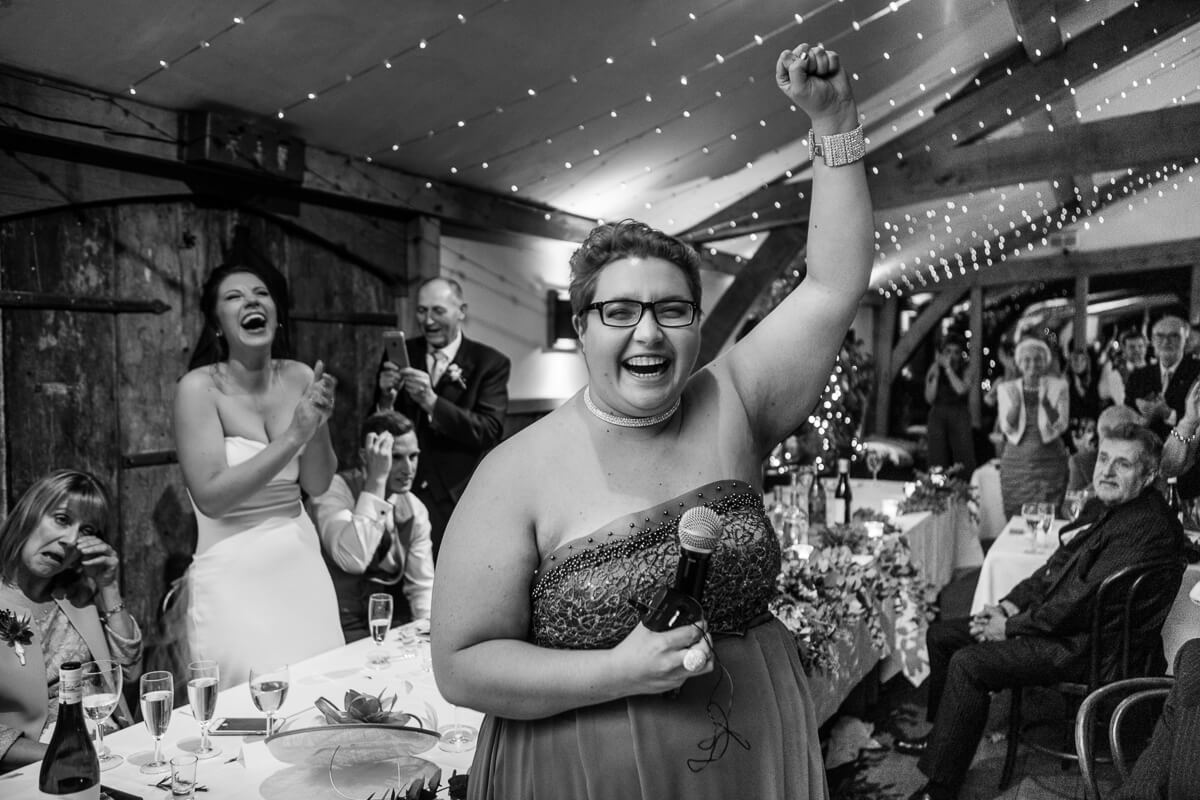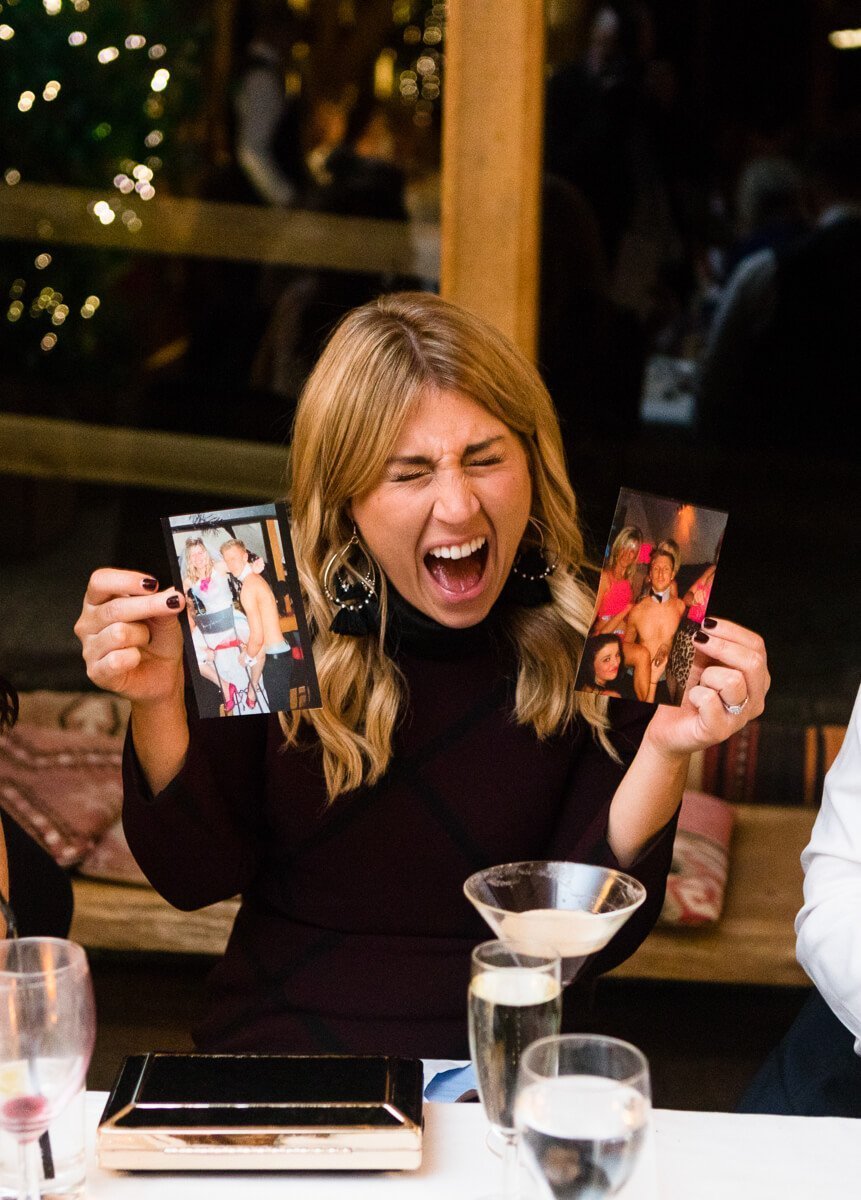 Best man hand out some controversial pictures!
Best man provides the groom with a little surprise!
And here's the surprise!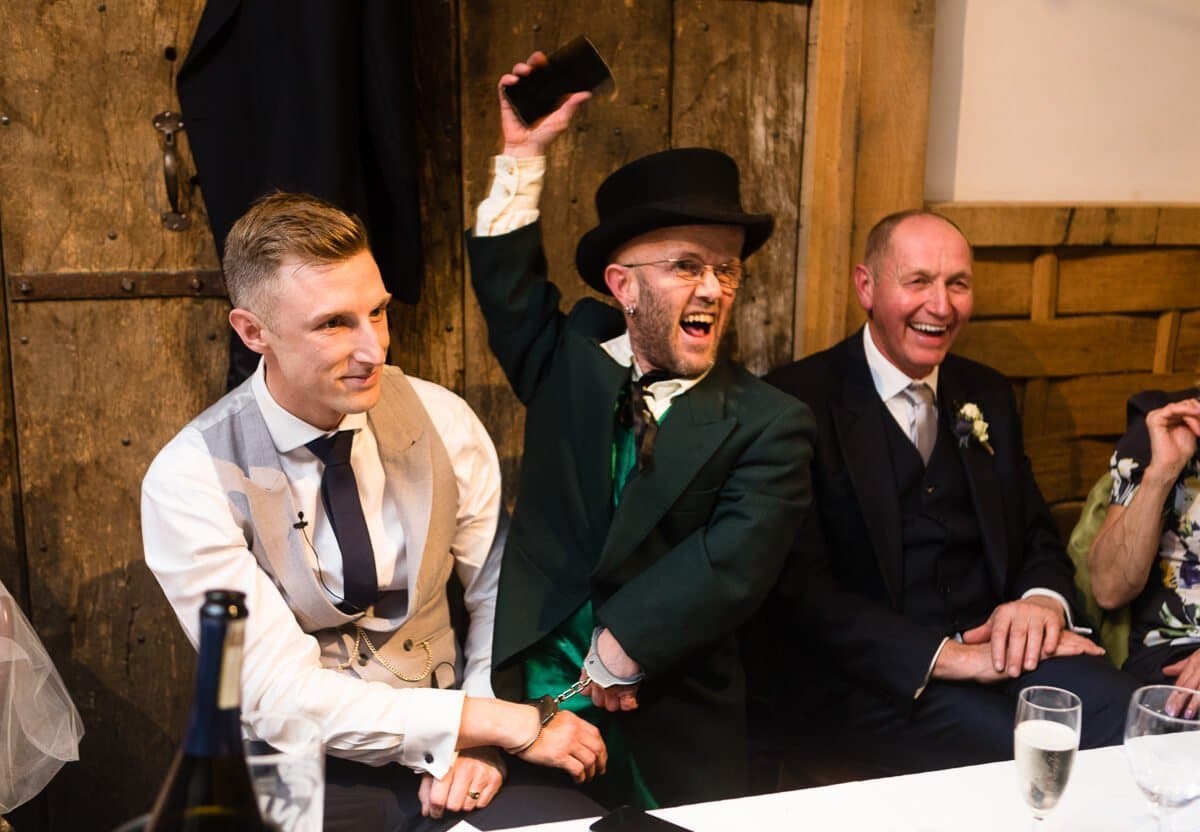 Taking no chances it's time to handcuff the groom!
Wedding guests in deep conversation with a pint after dinner.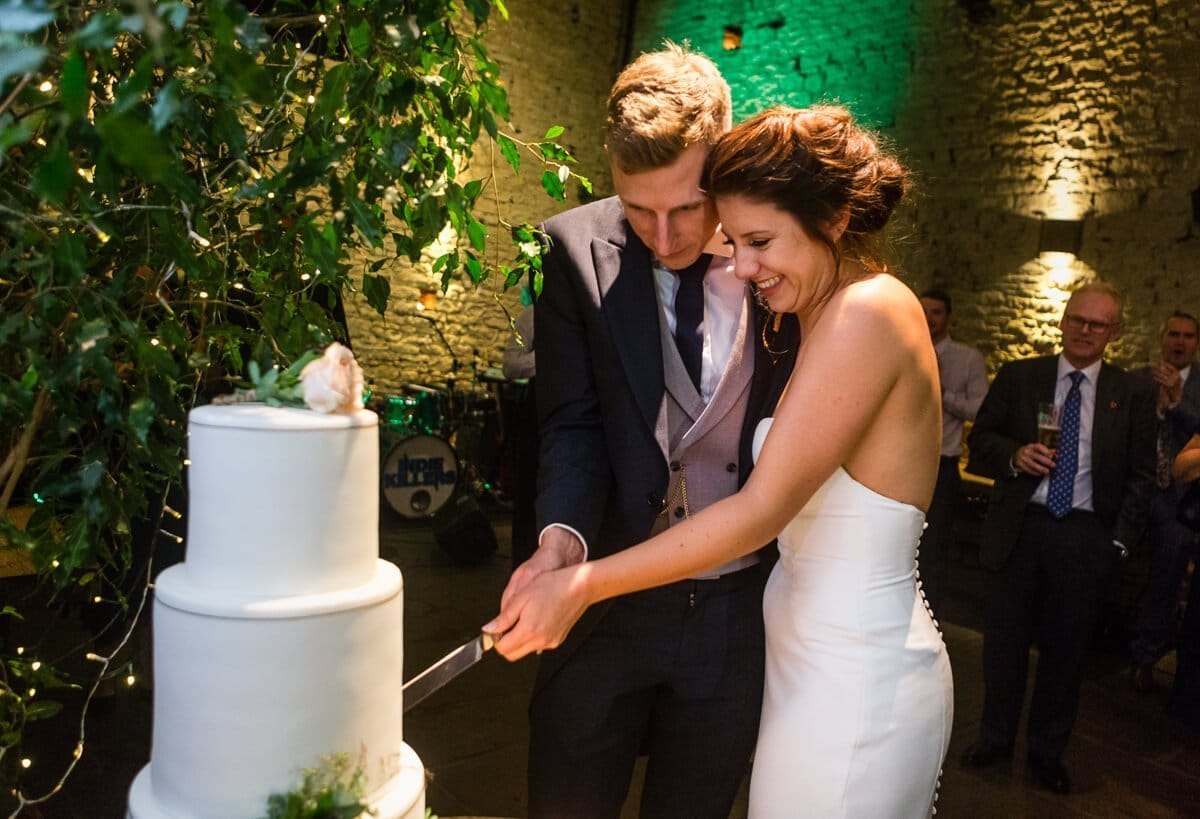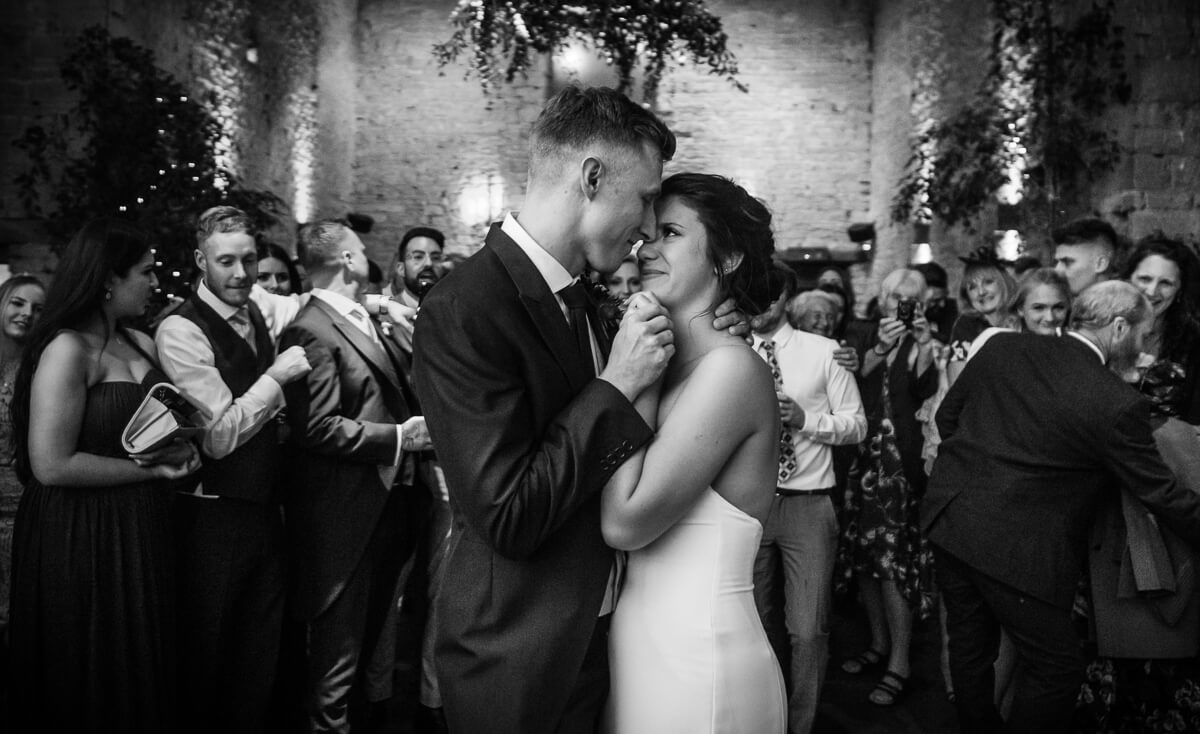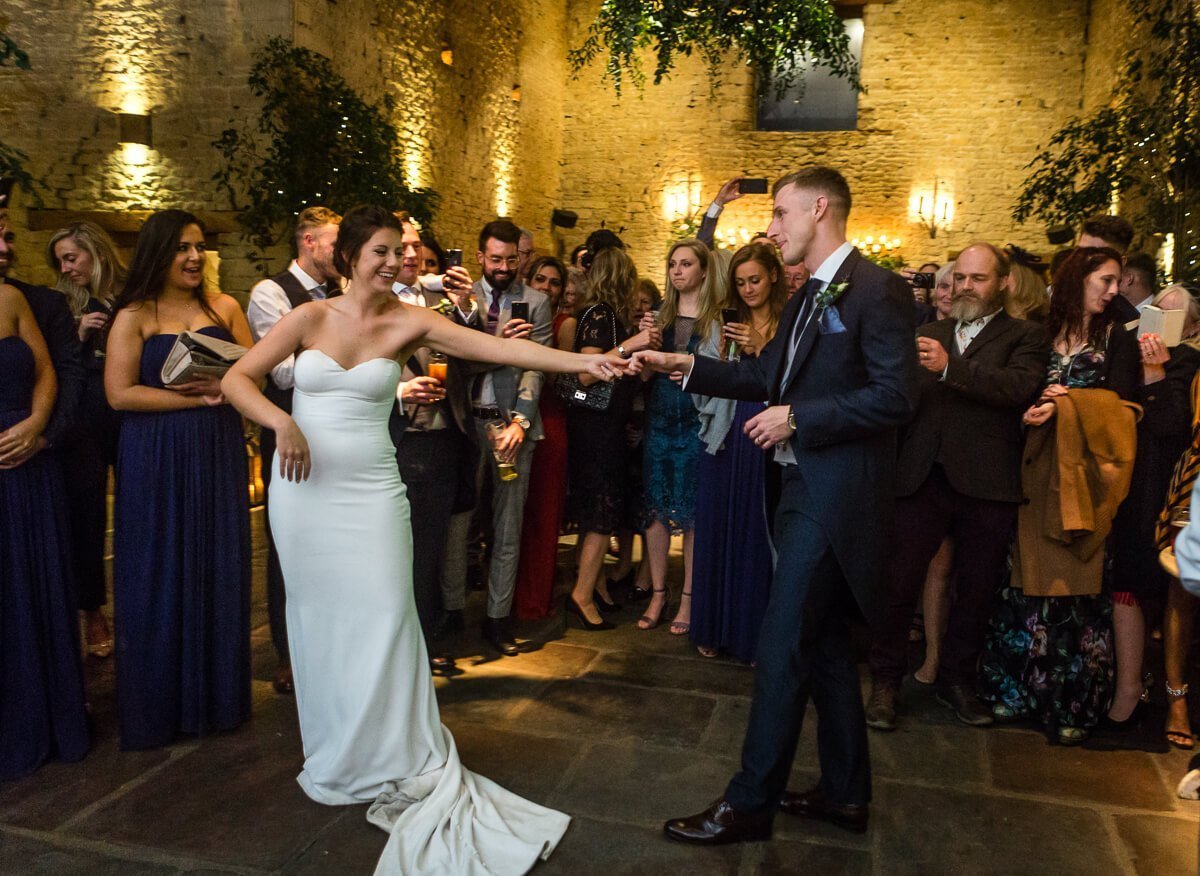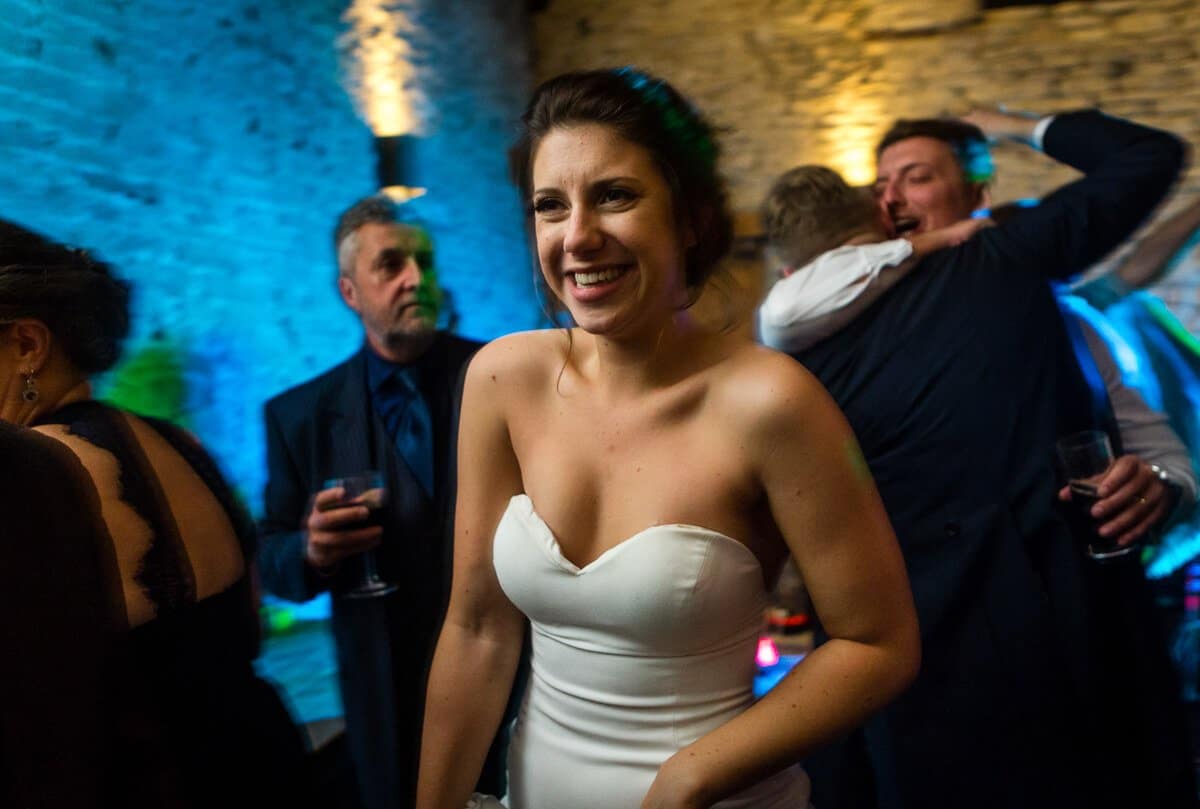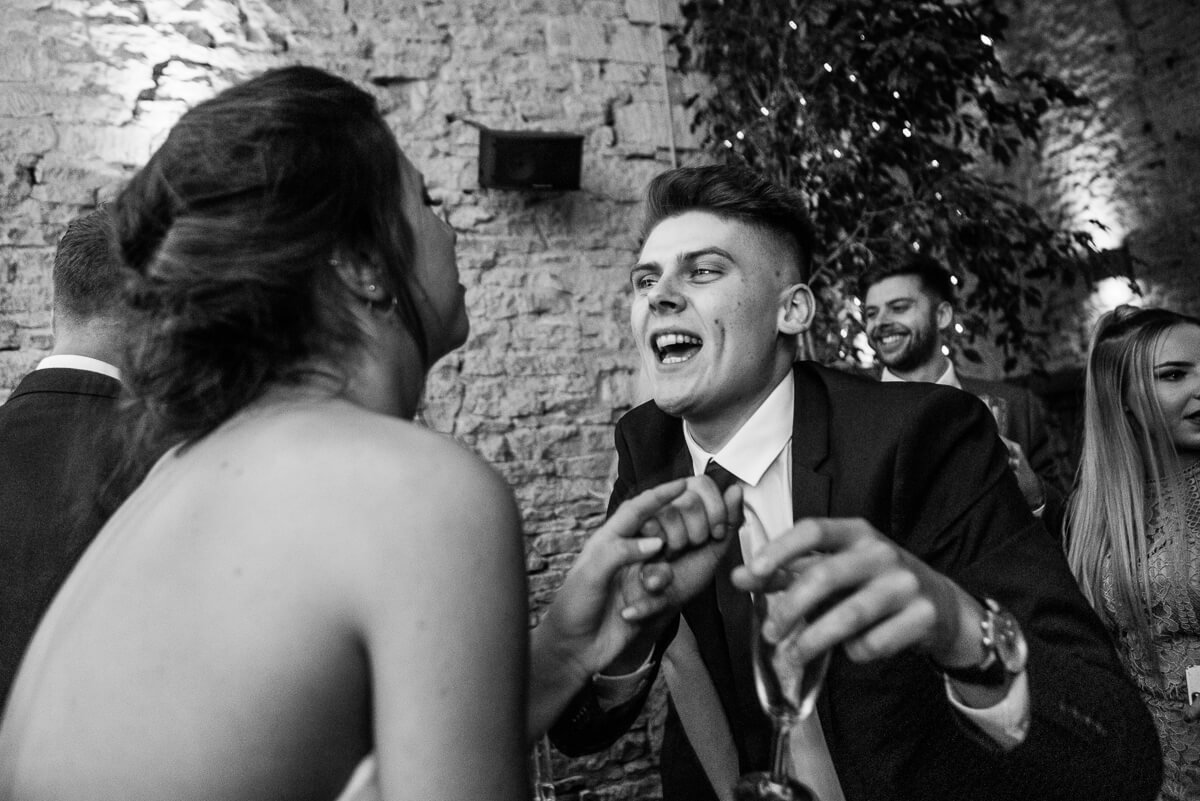 Check my Wedding booking availability today!
I hope you enjoyed Libby and Graham's Wedding images. If you are getting married at Cripps Barn or any other venue for that matter then feel free to contact me to see if I'm still available. I tend to get booked up very quickly, sometimes two years in advance! So don't hang around. You can see more examples of my work in my wedding gallery. Also, check out my wedding blog page